In just two weeks, the International AIDS Conference (AIDS 2016) will take place in Durban, South Africa. Ahead of AIDS 2016, it is important to take a moment to reflect on important questions surrounding the conference as people from around the world come together to advance plans to end AIDS as a crisis.
What is AIDS 2016?
The International AIDS Conference was first held in 1985, during the peak of the AIDS epidemic. Since then, it has been held every two years, and brings together political leaders, researchers, people living with HIV (PLHIV), advocates, and many others committed to ending the epidemic. This year, AIDS 2016 will unite 18,000 people from 180 different countries. By bringing people together from around the world, AIDS 2016 will serve as a platform for discussions on recent successes, scientific advancements, and how the global community can continue to work in partnership to ensure that we end the AIDS epidemic once and for all!
What is the Significance of the "Return to Durban"?
This summer marks only the second time that the International AIDS Conference has been held in sub-Saharan Africa, where approximately 70 percent of PLHIV are residing and almost three-quarters of AIDS-related deaths occur. The only other time the conference was held in Africa was in 2000, also in Durban. Therefore, "Return to Durban" gives us the opportunity to reflect on how the landscape surrounding the global AIDS epidemic has changed over the last 16 years.
Since Durban last hosted the conference in 2000, the world has come together to turn the tide in the fight against HIV/AIDS. For example, the Global Fund was founded in 2002, and President George W. Bush established the U.S. President's Emergency Plan for AIDS Relief (PEFPAR) the following year. In 2000, there were significant questions and debates on the feasibility of expanding access to treatment in sub-Saharan Africa and other developing countries. But thanks to programs like PEPFAR and the Global Fund, 17 million people are on antiretroviral therapy treatment today – allowing us to answer these questions with a resounding YES!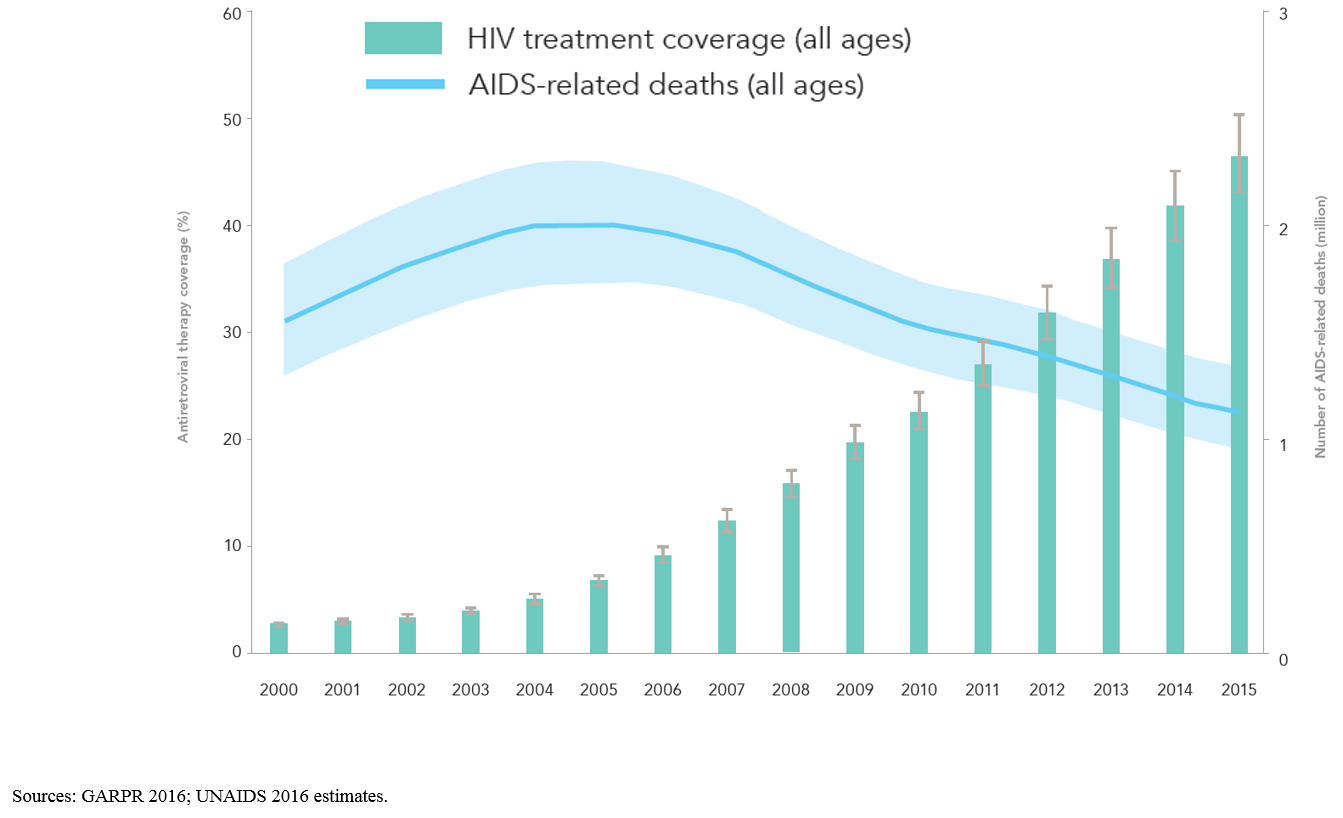 The work is far from over, though. A recent UNAIDS report highlights that while access to treatment has improved dramatically around the world, nearly half of PLHIV are not on treatment. Much like the 2000 International AIDS Conference served to catalyze global action and expand access to treatment, "Return to Durban" has the potential to be a defining moment in ensuring that no one is left behind in the ongoing fight, particularly women and girls.
The post-2015 development agenda, including the fight against HIV/AIDS, must take into account key affected populations, such as adolescent girls and young women. While enormous strides have been made to treat and prevent the spread of HIV/AIDS, 1,000 women and girls are infected with HIV every day. Ensuring the health and well-being of women and girls will have a ripple effect and positively impact the health of everyone in their communities. As Mark Dybul, Executive Director of the Global Fund, recently said, "If we don't get gender right, we won't get the Sustainable Development Goals right."
What can we expect at the conference?
The theme of AIDS 2016 is Access Equity Rights Now, and there will be more than 500 sessions, workshops and programs centered on recent advancements in science, as well as improvements in program implementation that can be leveraged to continue expanding access to treatment for all. AIDS 2016 will feature more than 750 speakers, over half of which will be women, as the conference seeks to be increasingly inclusive and representative of those affected by the epidemic. The conference's plenaries are also strategically planned to highlight: where we are now in the fight against AIDS (day 1), what is our goal (day 2), what are the key barriers (day 3), and finally, how we accomplish those goals (day 4).
Ultimately, this conference will address why now is an important time to invest in health initiatives to improve the well-being of people, nations and economies everywhere. The world is at a tipping point to end HIV/AIDS as a public health threat, and AIDS 2016 will provide the momentum we need to keep financing global health and saving lives for years to come. To stay up to date on all of the news coming out of AIDS 2016, be sure to follow @theglobalfight and #AIDS2016.