Friends educates policy makers about the work of the Global Fund, but we also have a broader mission: supporting U.S. investment and programming to lead the world in ending the AIDS, TB and malaria epidemics for good.
While continuing to showcase the impact of the Global Fund – as well as the President's Emergency Plan for AIDS Relief (PEPFAR), the President's Malaria Initiative (PMI) and the U.S. Agency for International Development's TB program as bilateral U.S. investments– we also create research reports, infographics, articles and campaigns to spur broader advocacy around AIDS, TB and malaria.
Friends is closely tracking how the COVID-19 pandemic is impacting the AIDS, TB and malaria response around the world. See news and updates here.
Why is it crucial to end the epidemics?
Every week, 4,200 young women and girls are infected with HIV. 650,000 people died of HIV-related illnesses worldwide in 2021.
A child dies of malaria every minute . In 2020, there were 241 million cases globally and the disease claimed 600,000 lives, 80% of which were children under the age of 5.
TB, an airborne infection, is the leading cause of death globally from a single infectious disease. There were nearly 11 million new cases in 2021 and 1.7 million deaths. While TB is curable, strains of the disease that are resistant to treatment remain a major threat. Only about 56 percent of those with Multi-Drug Resistant (MDR) TB are successfully treated.
---
Publications and Campaigns
Friends works with partner organizations to create original research reports as well as broader campaigns on ending epidemics and emerging pandemics.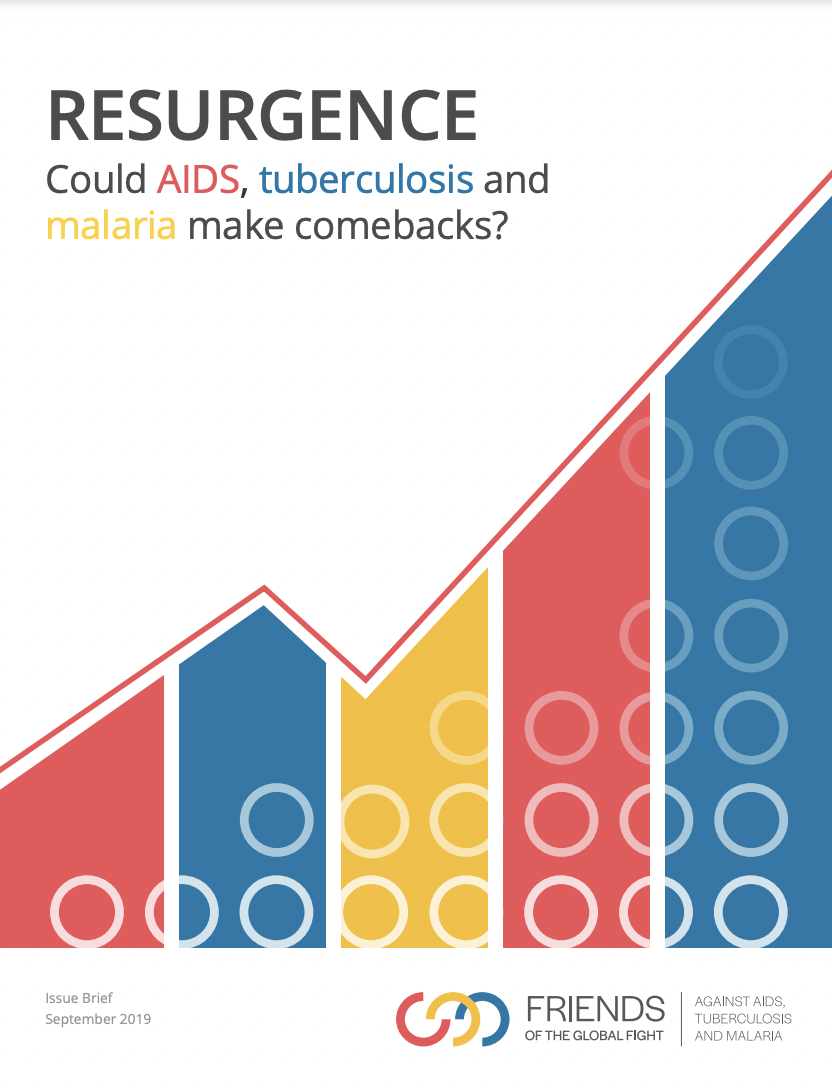 Resurgence: Could AIDS, Tuberculosis and
Malaria Make Comebacks?
---
In the Media
Click below to read selected opinion pieces written by Friends leadership and staff.
4/21/20: How COVID-19 must transform US global health strategy (The Hill)
"While the COVID-19 pandemic is raging in the U.S., Africa faces the prospect of imminent catastrophe, where at least 300,000 Africans could die from the disease and 29 million people may be pushed into extreme poverty. Viruses do not respect borders, and we know that America will not be safe if COVID-19 is out of control on other continents." READ MORE
2/6/20: How to Tackle Global Problems in an Age of Populism (Think Global Health)
"Appetites for investment do exist today to define achievable goals, apply effective tools, and solve global challenges." READ MORE
---