Click here for a PDF version of this page.
Innovation in global health has been a driver in progress to date and will continue to be critical in efforts to end the epidemics of AIDS, tuberculosis and malaria. In particular, new approaches to diagnostics, treatment, and prevention efforts must be developed and implemented.
As the largest global health financier, the Global Fund is uniquely positioned to serve as an incubator for such breakthroughs, ranging from new technologies that can more quickly and accurately diagnose a child with malaria to more efficient delivery systems that ensure supplies are available for those most in need. As it has evolved, the Global Fund operates on the premise that innovation comes in many forms. Its public-private partnership model nurtures creative and practical solutions to complex challenges, to be brought to scale in a fashion that seeks maximum impact for each dollar.
Innovation in Technology – eMpower and the Pharmacy Dispensing Unit
The eMpower mobile app was developed as part of a collaboration among the Global Fund, IBM, and anti-HIV organizations to assist community outreach workers. By replacing paper reports with the app, the Global Fund has been able to speed up patient reporting for more than 1 million people in treatment and prevention programs. Additionally, the app uses images to help patients with limited literacy and includes multiple language settings to accommodate local dialects, which help to improve overall patient reporting and data quality. Due to the early success of the app, IBM and the Global Fund are looking to identify other uses for it in the future.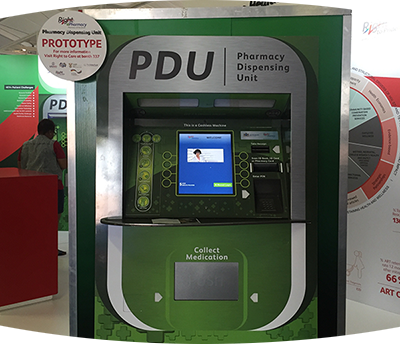 Through its funding of South Africa's Right to Care project, the Global Fund has supported the development of the Pharmacy Dispensing Unit — a machine providing antiretroviral drugs to people with HIV. A pilot effort is currently underway to install units in rural and densely populated parts of South Africa that are far from a doctor or clinic. Through smartcard IDs, patients will be able to withdraw three months of medication, and connect via webcam to an on-call pharmacist as needed. The machine could be a gamechanger in HIV/AIDS treatment by easing obstacles to care such as distance from clinics and travel time.
Innovation in Procurement – wambo.org
For global health institutions that provide lifesaving commodities, such as the Global Fund and in-country partners, market conditions often present challenges to the procurement of such medicines and other supplies. Obstacles can include limited transparency and visibility, time-consuming manual processes, and difficulties in achieving economies of scale at the same time as importantly fostering greater country ownership.
Wambo.org, an online purchasing platform, leverages the Global Fund's Pooled Procurement Mechanism (PPM) to strengthen programs and health systems that serve the people and communities most in need. It has been designed to increase the Global Fund's impact and value for money. It streamlines procurement operations, optimizes costs, and supports countries that are transitioning out of Global Fund financing by facilitating continued access to affordable prices for commodities to treat and prevent HIV/AIDS, tuberculosis and malaria. The system drastically reduces this wait time by giving Global Fund Principal Recipients (PRs) instantaneous access to comparisons on price, lead time to acquisition, and quantity across suppliers.
As of May 2017, 74 PRs from 52 countries have registered on the platform and have placed more than 100 orders, totaling a value greater than $385 million. Additional countries and partners have signaled significant interest in procuring through wambo.org, and the platform has been projected to produce a savings of $250 million by 2020, money that can be re-invested in the fight to end the three epidemics.
Innovation in Delivery – Project Last Mile
Essential health supplies do not always reach those who need them the most. To tackle this challenge, the Global Fund is partnering with Coca-Cola, USAID, and the Bill & Melinda Gates Foundation on Project Last Mile. This project leverages Coca-Cola's logistics, supply chain, distribution and marketing expertise to help African governments connect the dots to surmount logistical challenges. After all, if people can easily access a bottle of Coke, shouldn't they be able to access lifesaving medicines as well?
This program has had significant impact. In Tanzania, Project Last Mile has supported the expansion of the country's distribution system from 150 warehouse drop-off points to more than 5,500 health facilities as of April 2017. Now, approximately 20 million people — more than a third of the population of Tanzania — have access to those facilities. This public-private partnership shows just how many lives can be changed for the better with increased access to medicines.
The Global Fund well positioned to spur innovation, break through lingering obstacles and address arising needs. The ambitious but reachable goal of defeating three epidemics that prevent millions from thriving depends on it.