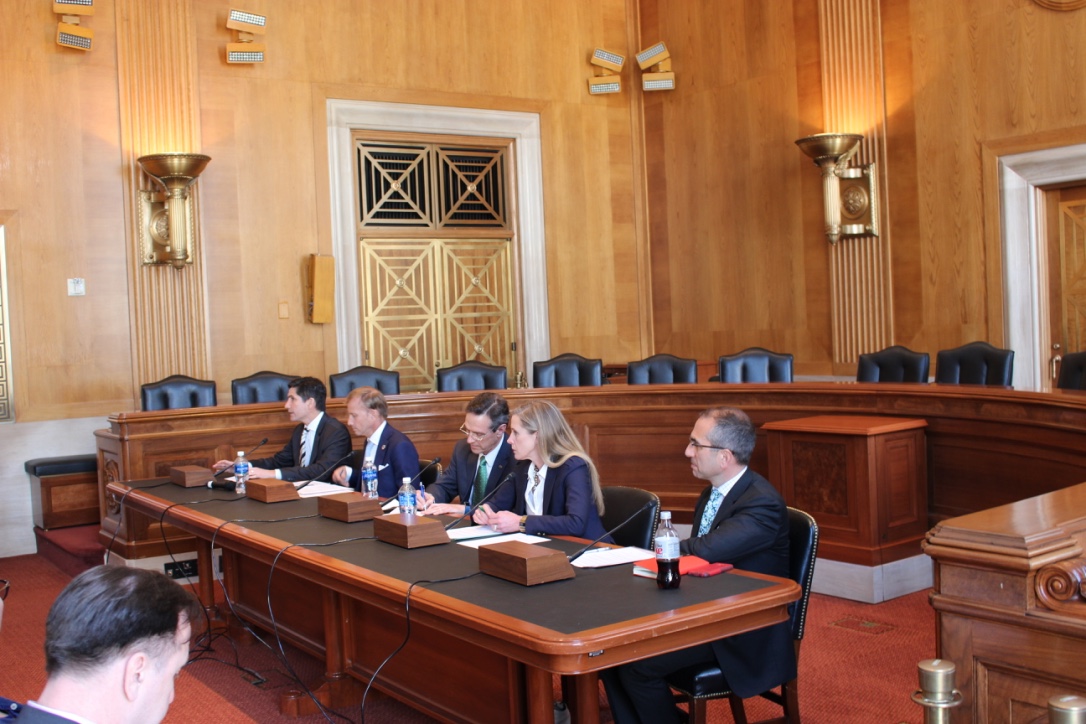 From technical expertise and supply chain best practices to financial support and relationship-building, faith-based and private sector organizations are playing an important role in critical work to fight AIDS, tuberculosis and malaria. On April 5, Friends of the Global Fight (Friends) hosted an expert panel on Capitol Hill to shine a spotlight on the Global Fund's successful partnerships with faith-based organizations and private sector companies. Panelists included Dr. Mark Dybul, Executive Director of the Global Fund; Sean Callahan, President and CEO of Catholic Relief Services (CRS); Johanna Nesseth Tuttle, who manages development and public policy for Chevron; and Michael Goltzman, Vice President of International Government Relations and Public Affairs at The Coca-Cola Company.
During his opening remarks, Friends President Chris Collins highlighted that the success of the Global Fund is shaped by U.S. engagement as well as partnerships with U.S.-based corporations and faith organizations. Since 2002, the private sector has contributed nearly $2 billion to the Global Fund, and during the last Replenishment launch, the private sector doubled its pledge to the Global Fund to $250 million for 2017-2019.
Mark Dybul kicked off the discussion by outlining how partnerships are a model for successful development. In addition to providing financial resources, the faith community and private sector companies are crucial in providing technical support, as well as delivering health commodities on-the-ground. Dr. Dybul said that, by bringing expertise in management of procurement, supply chains and human resources to the table, private sector companies can enhance development work, no matter what the company's primary product may be.

"The faith community does service delivery in potentially the most effective way b/c they are in every community" -Mark Dybul @GlobalFund

— Friends of the GF (@theglobalfight) April 5, 2017
In terms of advocacy, Dr. Dybul underscored that the private sector is a strong advocate for health. Companies require a healthy, productive workforce, so advocating for health funding and programming can produce significant returns on investment.
Sean Callahan noted that trust as a key element that faith-based organizations such as CRS can bring to the table in delivering health services. CRS does outreach to 100 million people every year and is a known and reliable presence in-country. It takes trust in health providers to support changes in the community, such as encouraging people to sleep under insecticide-treated nets. Organizations like CRS are able to build relationships in communities that help drive global health progress.

"For any of the development work we do, we need a foundation of having a healthy community" -Sean Callahan @CatholicRelief

— Friends of the GF (@theglobalfight) April 5, 2017
Johanna Nesseth Tuttle said that no single entity has enough money, people or skills to solve every issue – that's why partnerships are crucial to accomplishing health and development goals around the world. Chevron is one of the largest private sector supporters of the Global Fund, and has partnered with the Fund since 2008, providing $60 million to support health programs.

"No company can go into a community & solve every issue, you need to work with a network of communities" Johanna Nesseth Tuttle @Chevron

— Friends of the GF (@theglobalfight) April 5, 2017
Michael Goltzman highlighted Project Last Mile, the successful partnership between the Global Fund, Coca-Cola, the Bill & Melinda Gates Foundation and USAID as being part of the "Golden Triangle" – business, government and civil society organizations coming together to work on a common goal. With the Global Fund and Project Last Mile, Mr. Goltzman said The Coca-Cola Company is "helping governments do their job better." Through improved supply chain management and delivery, more communities and clinics in Project Last Mile countries can access the lifesaving medicines they need. In addition, Coca-Cola is lending its expertise in refrigeration by training technicians in-country to maintain and repair refrigerator units to properly store medicines.

"We may not know vaccinations, but we know refrigeration systems" -Michael Goltzman @CocaCola

— Friends of the GF (@theglobalfight) April 5, 2017
Ultimately, private sector companies and members of the faith community work with the Global Fund because it gets results.

"The @GlobalFund helps to institutionalize results" -Michael Goltzman @CocaCola

— Friends of the GF (@theglobalfight) April 5, 2017
Mr. Callahan said that CRS works with the Global Fund because it provides a great opportunity to help build local capacity, which is key to new, successful development models. He said the Global Fund has provided a model of how to eradicate disease as a global health "game-changer."