On March 23, I was fortunate to participate in the World TB Survivor Advocacy Day on Capitol Hill. This event was organized by RESULTS, International Union against Tuberculosis and Lung Disease, Vital Strategies, Aeras, TB Alliance, American Thoracic Society, National TB Controllers Association, and Management Sciences for Health. Tuberculosis (TB) survivors from around the United States, and one from Zimbabwe, traveled to Washington to meet with Congressional offices and tell their personal stories of their battles with TB.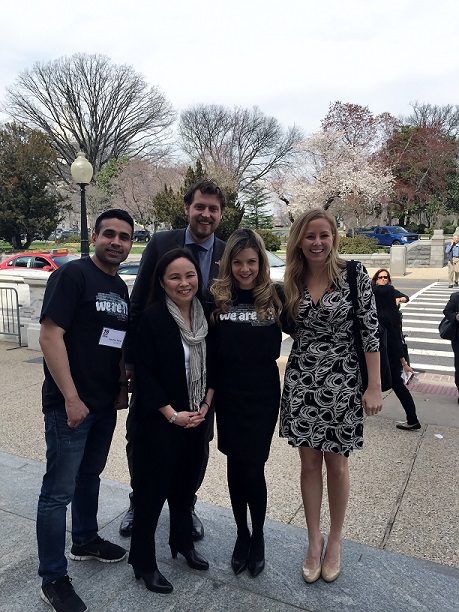 I was joined by a fellow advocate from TB Alliance, Ben Arsdurf, and two TB survivors: Katie O'Brien and Nauman Rana. We went to a total of five offices – three Senate and two House offices – and also attended a briefing called "Patient Perspectives on Surviving Tuberculosis." While our organization, Friends of the Global Fight Against AIDS, Tuberculosis and Malaria, is primarily focused on combating TB in developing countries, it was incredibly moving to hear from such brave individuals about their battles with TB in the United States. They were able to give TB a face to many people who previously knew almost nothing about the disease, its devastating impacts, and what needs to be done to #EndTB. Their message was clear: TB and multi-drug resistant TB (MDR-TB) can affect anyone in any context throughout the world.
Katie is a New Jersey-born and bred wife and mother of two boys with a profoundly moving way of telling her story that brings it to life. Katie contracted TB during her second pregnancy, but did not get diagnosed until months after her symptoms began. She went to countless doctors and spoke with friends and family members, but many of these people wrote off her symptoms as simply her pregnancy. Katie knew it was something more, but was burdened by her symptoms for months until she was ultimately sent to the hospital by her gynecologist. Katie was put in a room on the maternity floor, sharing a room with another mother-to-be. After multiple tests, she was diagnosed with active TB. She was quarantined for more than 75 days and was unable to see her 2-year-old son and the rest of her family for fear of spreading the disease to them. Katie's treatment regimen was unique because she was pregnant, and many of the antibiotics affected her differently due to her pregnancy. Worried primarily about her baby, she persevered, moved her family home to her parents' house to save money to pay for the TB treatment, and eventually gave birth to a healthy baby boy. Katie endured physical, mental and financial hardships that you would never imagine if you ever met her. She is one of the most full-of-life, passionate and engaging individuals I have ever met.
The second TB survivor I had the opportunity to spend the day with was Nauman Rana. Nauman describes himself as a typical young New York guy who goes to the gym, works in finance and hangs out with friends. Outside of that description, Nauman is upbeat, an eloquent speaker and incredibly disciplined. Nauman has lived in New York all of his life and has no idea how he caught MDR-TB. While running his own business, Nauman began having intense pain in his lungs. He was misdiagnosed for more than eight months, until ultimately he was diagnosed with regular TB. Even then, after two months of treatment, the drugs stopped working altogether and he was once again in pain. After going back to the doctor, they concluded that he had MDR-TB, which is much more difficult to treat and can take years to cure, if the drugs work. Nauman went to the clinic five days a week to get injections of medicine in addition to taking multiple pills every day. Nauman's raw and honest tale of his struggle with depression and how he felt completely isolated and stigmatized during his treatment was disheartening – yet uplifting – because as with Katie, if you ever met Nauman, you would have no idea that he endured this struggle. He is in incredible shape, very positive, unbelievably motivated and eager to share his story.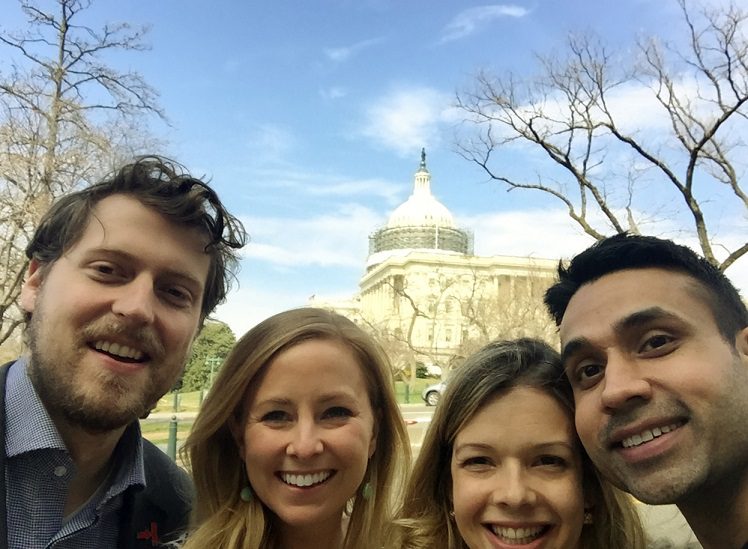 The most important highlight from my day with Katie and Nauman was their perseverance and strength. Outside of being survivors, these two individuals are warriors. They are not asking for anyone to feel sorry for them. They just want to raise awareness to help ensure that no one else has to go through what they did. I was impressed by their eloquent speeches and, more importantly, their willingness to advocate and put themselves out there to be seen and heard. The TB advocacy world is lucky to have two of the strongest, most humble, yet passionate, survivors and warriors in their court.
Though Nauman has now completed treatment, Katie is still receiving daily treatments for the next few months. A healthcare professional actually comes to her home and makes sure she takes her pills. While it was an unnecessarily long path, these survivors, Nauman and Katie, were able to receive care in clinics, pay for the drugs they needed, and had the flexibility in their jobs and schedules to comply with the treatment. The importance of stability in health care systems, supply of drugs and therapy, and presence of skilled and knowledgeable health care professionals has never been clearer to me. The flexibility to essentially put your life on hold is not always feasible in the United States or abroad. Thus, it is incredibly important to continue funding research and development for new treatment and diagnostics, in addition to U.S. government agencies that fund the fight against TB and MDR-TB at home and abroad, such as the Centers for Disease Control, the National Institutes of Health, the U.S. Agency for International Development, and multilateral funders such as the Global Fund to Fight AIDS, Tuberculosis and Malaria to ensure that we #EndTB once and for all.