For this edition of Friends' congressional e-newsletter, we will focus primarily on key updates and takeaways from the Global Fund's 35th Board Meeting, held on April 26-27 in Abidjan, Côte d'Ivoire, as well as the Global Fund's upcoming Fifth Replenishment and World Malaria Day 2016.
The Board deliberated on a number of important issues, several of which are highlighted below.
Global Fund Board Approves Strategy 2017-2022: Investing to End Epidemics
The Global Fund Strategy 2017-2022: Investing to End Epidemics ("Strategy"), was developed over a two-year period in 2014 and 2015 to ensure a consultative process that captured the strongest ideas, perspectives and guidance to formulate the Strategy. The consultations included three regional Partnership Forums with more than 300 participants from 128 countries, in addition to a 12-week consultation with over 1,200 participants from 143 countries, and dozens of focused meetings and discussions on specific aspects of the new Strategy. The Board-approved Strategy sets a bold agenda for the next six years, 2017-2022. It is based on an ambitious vision, mission and four strategic objectives, which are outlined below:
Vision: A world free of the burden of AIDS, tuberculosis and malaria with better health for all.
Mission: To attract, leverage and invest additional resources to end the epidemics of HIV, tuberculosis and malaria and to support attainment of the Sustainable Development Goals.
Strategic Objectives (as outlined in the graphic below):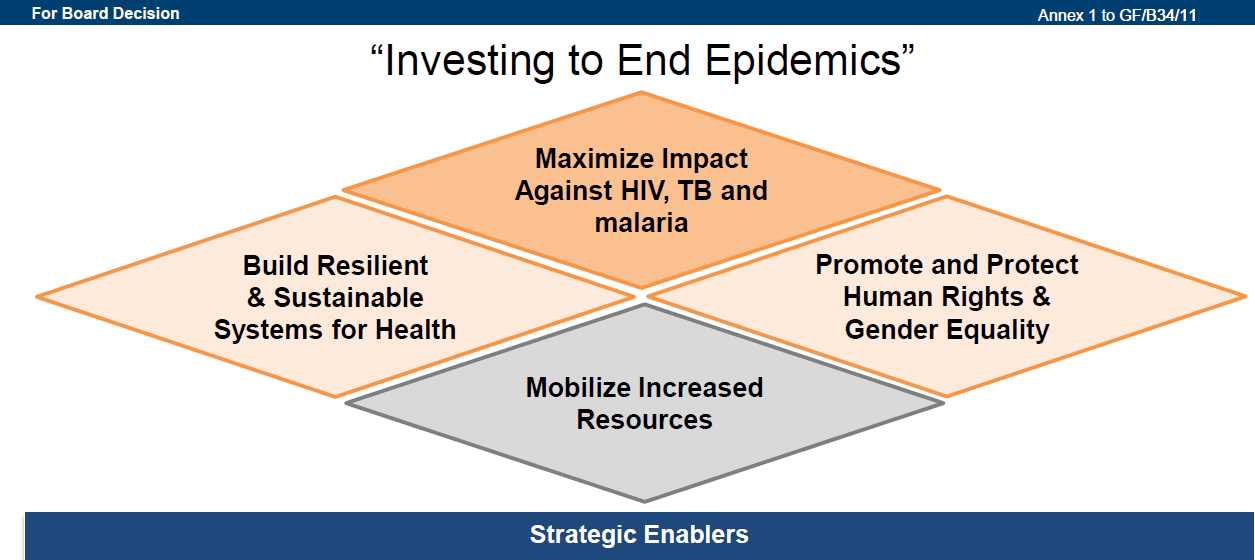 To achieve strategic objective one, maximize impact against HIV, tuberculosis and malaria, the Global Fund partnership will scale up evidence-based interventions with a focus on the highest burden countries with the lowest economic capacity and on key and vulnerable populations that are disproportionately affected by the three diseases. To help build resilient and sustainable systems for health (strategic objective two), the Global Fund partnership will work on the following: strengthen global and in-country procurement and supply chain systems; strengthen financial management and oversight; work with implementing country governments to align national health and disease-specific strategies; and leverage critical investments in human resources for health. For objective three, promote and protect human rights and gender equality, the focus will be on scale up of programs focused on women and girls, and to invest in reducing gender- and age-related health disparities, and to remove barriers to access to treatment. Lastly, on objective four, mobilize increased resources, the Global Fund partnership will work to attract additional funding from current and new public and private donors, as well as work with implementing countries to increase domestic resources for health programs and use existing resources more efficiently. Progress on implementation of the Strategy will be tracked through reporting on Key Performance Indicators measured at all levels of the Global Fund partnership. The Global Fund plays a critically important role, and it is imperative that funding is invested for maximum impact, supporting the implementation of programs in the most effective way possible.
European and Pacific Donors Announce Contributions to the Global Fund in Advance of Fifth Replenishment
Later this year, the Global Fund will host its Fifth Voluntary Replenishment Pledging Conference to raise funds for the 2017-2019 funding cycle. The Global Fund is seeking $13 billion, pledged from the public and private sectors, which would enable the Global Fund partnership to save an additional 8 million lives and avert 300 million new infections of HIV, tuberculosis and malaria, as well as advance our shared goal of ending these diseases as epidemics by 2030.
Over the past few weeks, the Global Fund announced three pledges from donor governments – Luxembourg, Portugal and New Zealand. Luxembourg, which is one of the most generous donors per capita, contributes 0.95 percent of its Gross National Income to official development assistance. Luxembourg has committed to increase its three-year financial commitment to the Global Fund by 8 percent to €8.1 million. Luxembourg's cumulative contributions to the Global Fund amount to €38 million. Portugal, which has been a donor to the Global Fund since 2003, pledged €50,000 for 2016, bringing their total cumulative contribution to approximately US$16 million. Portugal also contributes technical assistance to Global Fund-supported programs in some Portuguese-speaking countries in order to improve the efficiency of grant implementation. And finally, New Zealand's contribution to the Global Fund's Fifth Replenishment effort is worth NZ$1 million. These early contributions are very encouraging and highlight donor governments' commitment to supporting the Global Fund in achieving its mission.
Celebrating World Malaria Day 2016




On April 25, the Global Fund partnership celebrated World Malaria Day 2016. Over the past 15 years, malaria deaths have decreased by 60 percent; however, more investments are needed to #EndMalaria for good. In the West Africa region, an area where all countries are malaria-endemic, the Global Fund partnership has saved 1.2 million lives through an approach that includes distribution of insecticide-treated mosquito nets, indoor spraying and artemisinin combination therapy treatment. Countries in West Africa are making important contributions to the fight against malaria, and some are even moving toward elimination. In Senegal, where deaths due to malaria have fallen 55 percent since 2002, 20 districts are already in the pre-elimination stage. The island nation of Cape Verde reported only 46 cases of malaria in 2014, of which 20 were imported. The country is working to eliminate malaria by 2020. On World Malaria Day, the Global Fund partnership celebrates the collective progress and calls on the global community to finish the job. Through sustained investments, shared responsibility and continued innovation, the world has an opportunity to end malaria as a major public health threat by 2030. Let's end malaria for good.