The Global Fund is a partnership designed to accelerate the end of AIDS, tuberculosis and malaria as epidemics. As an international organization, the Global Fund mobilizes and invests more than $4 billion a year to support programs run by local experts in more than 120 countries. In partnership with governments, civil society, faith-based organizations, technical agencies, the private sector and people affected by the diseases, the Global Fund has saved 50 million lives since its founding in 2002. The Global Fund plays a significant role in infectious disease control and health system strengthening and is the largest multilateral contributor to pandemic preparedness and response.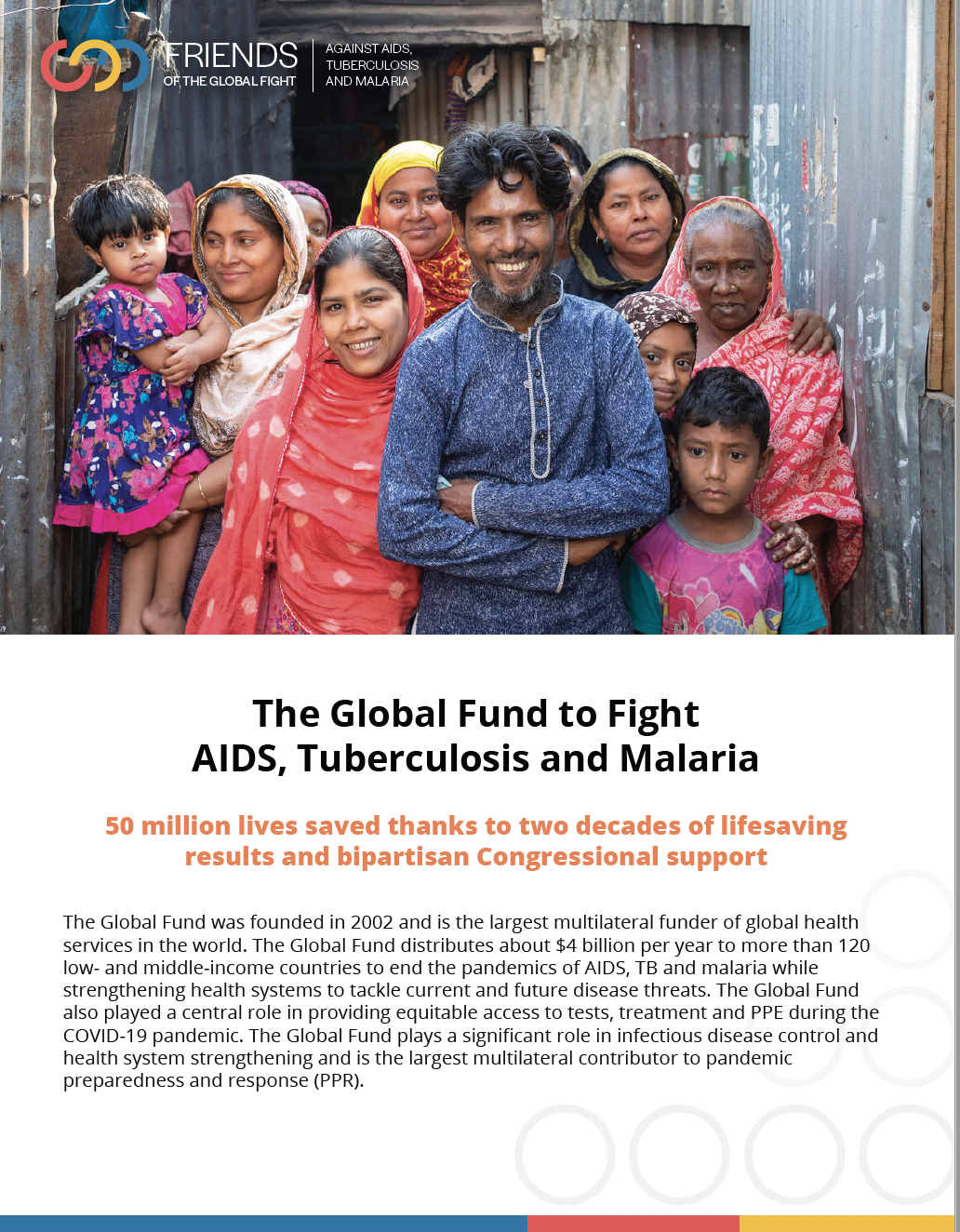 What makes the Global Fund unique
The Global Fund partnership model is designed to promote innovative solutions to global health challenges. Countries take the lead in determining where and how to best fight AIDS, TB and malaria. Collectively, the Global Fund harnesses the best possible experience, insights and innovation in the public and private sectors to respond to diseases and build resilient and sustainable systems for health.
As a result, millions of people are now on antiretroviral therapy and spared the death sentence that used to come with HIV. The number of people dying of malaria, most of them young children, has been cut in half. New diagnostics systems are speeding up the testing and treatment of people with TB.
Check out our scaling innovation infographic for examples of how the Global Fund has helped scale innovative treatment, prevention and diagnostic technologies over the past 20 years.
The Global Fund Replenishment and U.S. Leadership
The Global Fund funding model — which continuously evolves based on new needs, learning and realities — recognizes the only way to end the three diseases as epidemics is by working together. This includes the Global Fund, governments, civil society, people affected by the diseases, faith-based organizations, technical partners, the private sector and other partners.
Every three years, all of these partners come together for a funding replenishment conference. The 7th replenishment conference, in 2022, was hosted by the United States. The U.S. has long been a leader in global health, providing nearly one-third of funds pledged to the Global Fund to date.
Beyond being a key donor, the U.S. encourages other countries and donors to step up. As a result, the Global Fund raised an unprecedented $15.7 billion during the 2022 fundraising cycle.
If Congress maintains a $2 billion appropriation for The Global Fund for fiscal year 2023, that would equal a $6 billion U.S. contribution over the three-year replenishment cycle – and ensure that other donors follow through on their commitments.