The Global Fund to Fight AIDS, Tuberculosis and Malaria: At the Leading Edge of the Global Response to COVID-19
The COVID-19 pandemic threatens to reverse extraordinary gains made in the fight against the epidemics of AIDS, tuberculosis and malaria. The United States should be proud of our leading role in addressing these epidemics but COVID-19 could erase much of the impact of our investments.
Analyses from Imperial College, UNAIDS, the Stop TB Partnership, WHO, The Lancet and others suggest the annual death toll across the three diseases could nearly double as health systems and communities are overwhelmed, treatment and prevention programs are disrupted and resources are diverted to COVID-19.
In speaking at the International AIDS Society conference on July 6, Global Fund Executive Director Peter Sands said, "Interruptions to [the HIV response] could see an additional 534,000 deaths over the next twelve months. That would take us back to the annual death toll we saw in 2008 – twelve years ago. It's staggering to think that we could lose so much, so fast. That many lives. All that effort. All those billions of dollars that got us this far. We cannot let this happen."
Evidence of service disruption
A recent survey by the Global Fund shows widespread service disruptions in the three disease responses as a result of COVID-19, impacting approximately three-quarters of HIV, TB and malaria programs. These charts show the level of reported service disruption by disease response.

The investment needed to respond to COVID-19 globally
The Global Fund and partners must respond with urgency in resource-limited settings to adapt AIDS, TB and malaria programming and shore up fragile health systems that help respond to these diseases. In addition, the response to COVID-19 must focus on containing the virus's spread through testing, contact tracing and isolation, protecting health workers, and the provision of personal protective equipment.
In a mitigation plan released June 24, the Global Fund estimates that at least $28.5 billion is needed across international partners in the next 12 months to adapt HIV, TB and malaria programs, protect health systems and reduce the impact of COVID-19. Based on its traditional role working with partners, the Global Fund estimates it requires $6 billion of this total over the next year and that the need will very likely increase in the following year.
Thus far, the Global Fund has made up to $500 million available through grant flexibilities and $500 million available through the COVID-19 Response Mechanism (C19RM). The Global Fund has already responded rapidly to emergency requests from nearly 100 countries, and it anticipates these funds will be almost fully deployed by the end of July 2020.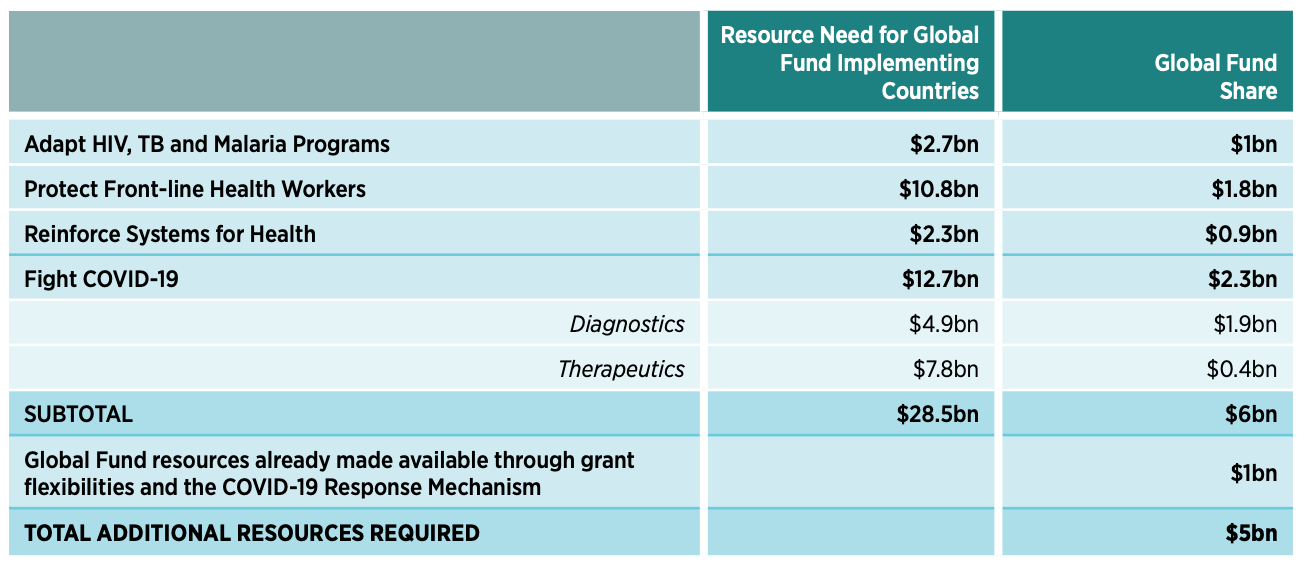 From Mitigating the Impact of COVID-19 on Countries Affected by HIV, Tuberculosis and Malaria – Global Fund
To protect progress on U.S. investments to end HIV, TB and malaria and mitigate the impact of COVID-19, Friends of the Global Fight is asking the U.S. to provide $4 billion over two years in appropriations to the Global Fund's C19RM in the next emergency COVID-19 supplemental bill. In order to deliver funding without delay, we ask that the 33% cap on U.S. contributions to the Global Fund be waived just for appropriations to C19RM.
A U.S. contribution to the Global Fund should be just one part of a broader U.S. investment of at least $20 billion to address COVID-19 globally. And as witnessed with Global Fund Replenishment last fall, U.S. leadership spurs other donors. Recently Senators, private sector and faith leaders have urged significant U.S. investment in the global COVID-19 response as part of the next COVID-19 supplemental.
The Global Fund: a unique, results-oriented and highly accountable mechanism
The Global Fund is a proven, results-oriented model to fight infectious disease and save lives. Since it was founded in 2002, the Global Fund partnership has saved more than 32 million lives and driven down infection rates in the three diseases. As a partnership between governments, technical partners, the private sector, civil society, faith-based organizations and communities, the Global Fund brings diverse players together, building off each other's strengths to deliver health solutions effectively.
The Global Fund regularly receives very high marks for accountability and transparency in multilateral aid reviews and its Office of the Inspector General provides strong independent oversight of its operations. The Global Fund's C19RM is a time-limited response to extraordinary events and in line with its core mission: to end the epidemics of AIDS, TB and malaria.