Maurine Murenga was diagnosed with HIV in the early 2000s when access to treatment was severely limited in Kenya. Due to lack of adequate treatment, Maurine's son was infected with HIV at birth in 2002. The next year, support from the Global Fund came to Kenya, and both Maurine and her son were able to receive treatment. Since that time, Maurine gave birth to another son who is HIV-free. Thanks to the Global Fund, Maurine and her family members are leading healthy lives.
To help address the inequalities she experienced, Maurine established the Lean on Me Foundation in 2008 to provide care and support for adolescent girls and young women in Kenya living with HIV/AIDS, as well as tuberculosis (TB). In addition, Maurine now serves as the Global Fund Board member representing the Communities delegation. Maurine sat down and spoke with Friends about the Global Fund and her experiences during her recent visit to Washington, D.C.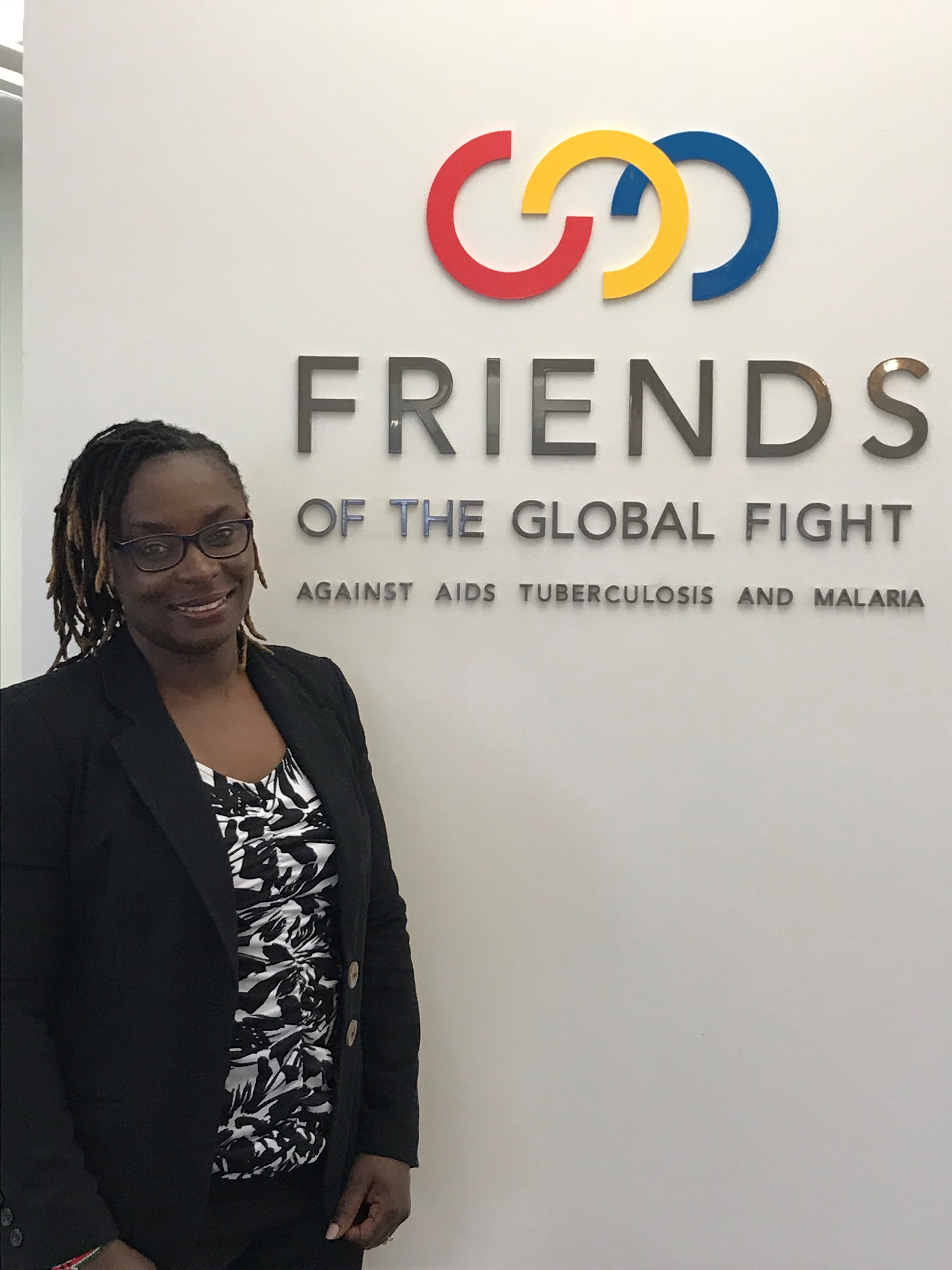 This Q&A has been edited for length and clarity.
FRIENDS: Thank you for speaking with us today, and congratulations on your new role as a Global Fund Board member representing Communities! What has your experience with the Global Fund been like? What positive impacts do you think the Global Fund has made for people living with HIV, TB or malaria?
Murenga: It goes without saying that the Global Fund has saved lives. We have had many more people stay alive because they get ARVs from the Global Fund. We have had malaria deaths reduced. Therefore, in terms of saving lives, the Global Fund has done quite a tremendous job. Our countries' systems of health are better thanks to the policies and the investment of the Global Fund. Because of some of the policies the Global Fund has around countries being asked to contribute, we have seen an increase in domestic resources for health from within our own countries.
FRIENDS: Can you please tell us about your personal experiences with HIV?
Murenga: We should be called the primary beneficiaries of the Global Fund. I got diagnosed with HIV during that time when we didn't have treatment in Kenya. The saddest part is that people died in numbers. I have never seen so many people die in a given period of time. In that lost hope, I was pregnant and I had my baby, and he was diagnosed with HIV as well. So it left me as a very helpless person. I knew we were both going to die, but my worry was who was going to die first. If I died first, my son was going to be stigmatized. If my son died first, I was going to be lonely because he was the only friend I had. So, it was a very uncertain moment.
Then came treatment. Then came the Global Fund. We were enrolled in treatment, and those of us who survived are still here thanks to the Global Fund.
FRIENDS: How do you see the three diseases impacting women and girls' daily lives, in particular?
Murenga: I think women and girls are disproportionately affected by all the three diseases, and a good example is Lean on Me, the organization that I work with. When we go out to do home-based testing and counseling, when you have this conversation or when you have tested a woman and she tests positive, she looks at us in the eye and says, "I saw it coming." Most women are in vulnerable situations, and most women know they are vulnerable and could get HIV, but they don't have a way of getting out of it.
FRIENDS: What do you want people in the United States, particularly policymakers, to understand about what it's like to live with these diseases, especially in Kenya?
Murenga: I think one thing they should understand is that most of the Kenyans who are on ARVs cannot afford them. If they were to [pay for] them from their pockets they wouldn't afford it, even for the TB treatment and malaria. We are so dependent on the support that comes from here [the U.S.]. We are pushing our governments to also invest as much as possible, and they are trying as much as they can. But our governments still won't be able to afford us all treatment, should we not get it from here.
As citizens of Kenya who are living with the diseases, we look up to the U.S. government to lead in the global health agenda. Every time the U.S. is taking the lead, other countries look up to the U.S. to see if the U.S. takes a U-turn; if they decide they are not taking the lead anymore, then many other countries will give up on the little they give towards the global health agenda. So I think the U.S. should continue taking leadership and giving direction in the global health agenda.
FRIENDS: What are some recent challenges and opportunities you've seen in the fight against HIV, TB and malaria?  
Murenga: We know that there's been flattened funding for the response, but we won't achieve this [ending the epidemics] if we don't increase funding. We have to go beyond what we have been traditionally doing in order to just defeat the epidemics. It will take a little more funding. It will take a little more political good will. It will take a little more commitment to be able to end the three epidemics.
FRIENDS: What do you think Americans should know about the Global Fund as we prepare for the next Replenishment conference in 2019?
Murenga: Americans should know that the Global Fund has saved lives, and the Global Fund has an opportunity to help develop solutions to ending the epidemics. We are at a point where we need to invest more to achieve the goal of ending the three diseases as epidemics by 2030. Americans should also know that the U.S. has been taking a leadership role in this, including in the Global Fund, and that that leadership is needed to drive us through to the end.