The COVID-19 pandemic is having a serious impact on the most vulnerable communities worldwide and threatens progress on HIV, TB, malaria, vaccination and other areas of health.
Below, you can find regularly updated information on the impact of COVID-19 on HIV/AIDS, TB and malaria and news items from around the world on important developments.
1. Global Fund Survey
2. Imperial College Study
3. COVID-19 and HIV/AIDS
4. COVID-19 and Malaria
5. COVID-19 & Tuberculosis
6. Latest News
7. Further Reading
Global Fund Survey: Majority of HIV, TB and Malaria Programs Face Disruptions as a Result of COVID-19
Results from the Global Fund's latest biweekly survey show challenges for HIV prevention and HIV, TB and malaria case finding. In addition, the Global Fund is seeing cancelled or delayed prevention activities and laboratory staff being reassigned to COVID-19 – twenty percent of HIV and TB lab services are experiencing high or very high disruptions.
10% of HIV, 9% of TB and 6% of malaria programs report shortages of key medical supplies and treatment.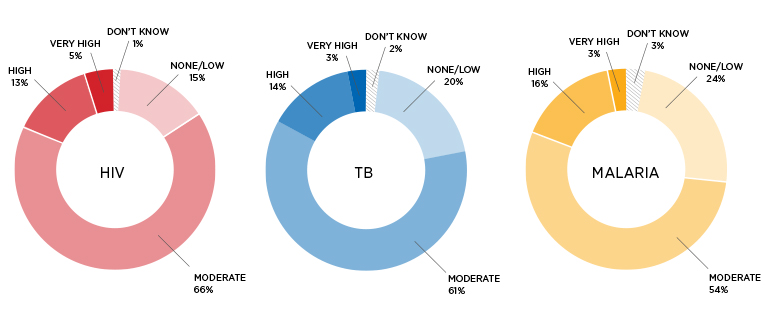 85% of HIV programs reported disruption to service delivery (18% with high or very high disruptions);
78% of TB programs reported disruption to service delivery (17% with high or very high disruptions);
73% of malaria programs reported disruption to service delivery (19% with high or very high disruptions).
Activities are being canceled due to:
Lockdowns
Restrictions on gatherings of people
Transport stoppages
COVID-related stigma
Reluctance of health workers to attend to people suspected of having TB or malaria – which have many of the same initial symptoms as COVID-19
Clients not seeking health services as usual
"The COVID-19 pandemic is only now starting to accelerate in many low- and middle-income countries, and needs will soar," said Global Fund Executive Director Peter Sands. "We expect that our initial funding will be largely deployed by the end of June. Additional funding is critically needed to fight COVID-19, and to adapt HIV, TB and malaria programs. If not, many more lives will be lost."
---
Imperial College Study
Imperial College London estimates "in high burden settings, HIV, TB and malaria related deaths over 5 years may be increased by up to 10%, 20% and 36%, respectively, compared to if there were no COVID-19 epidemic." That's why the Global Fund to End AIDS, Tuberculosis and Malaria is providing immediate funding through its COVID-19 Response Mechanism.
COVID-19 & HIV/AIDS
A six-month disruption of antiretroviral therapy due to COVID-19 could lead to more than 500,000 extra deaths from AIDS-related illnesses, including from tuberculosis, in sub-Saharan Africa.
The 25.7 million people living with HIV and 16.4 million people taking antiretroviral therapy in sub-Saharan Arica risk treatment interruptions due to COVID-19 because HIV services are closed, supply chains to deliver antiretroviral therapies are disrupted or service providers are overwhelmed.
"The COVID-19 pandemic must not be an excuse to divert investment from HIV," said Winnie Byanyima, Executive Director of UNAIDS. "There is a risk that the hard-earned gains of the AIDS response will be sacrificed to the fight against COVID-19, but the right to health means that no one disease should be fought at the expense of the other."
---
COVID-19 & Malaria
This year, we celebrated the distribution of the 2 billionth bed net to prevent malaria infections, but if COVID-19 leads to a severe disruption malaria services like insecticide-treated net campaigns and access to antimalarial medicines, malaria deaths in sub-Saharan African could double.
For many countries in the Sahel region of West Africa, peak malaria season in September is likely to overlap with COVID-19 related disruptions if current trends hold.
---
COVID-19 & Tuberculosis
Lockdowns and limitations on diagnosis, treatment and prevention services could erase five years of progress on TB, increasing the annual number of deaths and cases over the next five years.
A three-month lockdown and 10-month restoration of services could mean an additional 6.3 million TB cases and 1.4 million deaths over five years.
Tuberculosis kills 1.5 million people each year, more than any other infectious disease.
---
Latest News
7/10/20: COVID-19: Re-tooling Nigeria's public health delivery model? (The Guardian – Nigeria)
"In the aftermath of the Ebola crisis, many individuals died due to the inability of the overwhelmed health systems to treat malaria, HIV, and tuberculosis than from Ebola itself. A similar trend can only be avoided in the aftermath of this fight against COVID-19 if efforts are geared towards putting in place a proactive, revolutionary and easily affordable and accessible health services delivery model [in Nigeria] that can ride on strong deployment of technology to strengthen healthcare accessibility at the grassroots." READ MORE
7/9/20: covid-19 and other diseases (london review of books)
"According to figures compiled by researchers at McGill University, the COVID-19 pandemic is predicted to cause an additional 400,000 malaria deaths this year; an additional 700,000 HIV-related deaths in Africa alone; and up to 1.4 million additional tuberculosis deaths by 2025. The list continues: at least 80 million children under one are at risk of vaccine-preventable diseases such as measles, rubella and polio, as routine immunization services have been disrupted in almost 70 countries." READ MORE
7/9/20: COVID-19 pandemic disrupts crucial supply of life-saving HIV medicine for millions (globe and mail – canada)
"A separate study by the Global Fund to Fight AIDS, Tuberculosis and Malaria found that at least three-quarters of the fund's programs in 106 countries, including 85 per cent of its HIV programs, were suffering disruptions as a result of the coronavirus pandemic." READ MORE
7/9/20: Nigeria: COVID-19 – Group Cautions Against Retrogression in Anti Malaria Drive (all africa)
"Vulnerable communities where health care services are underserved…are under the threat of COVID-19 and are at the risk of a resurgence of malaria, HIV and TB. As the resources that used to serve these communities which were inadequate to begin with is stretched to serve the needs of COVID-19, alongside the economic downturn occasioned by the lockdown could result in nutritional deficiencies and collapse of services." READ MORE
7/9/20: Hospitals overwhelmed as Johannesburg runs out of oxygen (the telegraph – united kingdom)
"The soaring coronavirus caseload is wreaking havoc on South Africa's other major health crises: the HIV and tuberculosis epidemics. Almost five million South Africans are on life-saving antiretroviral drugs but in recent weeks the delivery of this HIV therapy has been severely disrupted by the pandemic." READ MORE
7/9/20: What Toll Will COVID-19 Take on Tuberculosis and HIV Treatment? (the wire, science – india)
"TB patients often have lung damage, and it is possible that they might have poorer outcomes [from COVID-19] if they also developed pneumonia due to coronavirus." READ MORE
7/8/20: Coronavirus latest: US tops 3 million coronavirus cases (Deutsche Welle – germany)
"The UNAIDS and WHO can only estimate, but they are estimating half-a-million additional deaths due to a lack of supplies. The issue with HIV is that you have to take the medication every day. And if you do not have medication for months or even a week, you might develop resistance against the medication. And then it won't work anymore." READ MORE
7/8/20: HIV funding is dwindling. Who will fill the gap? (devex)
"As the novel coronavirus continues to squeeze government budgets, experts note there are more questions and uncertainties on the future of HIV funding. UNAIDS estimates a shortfall of 30% in the overall amount needed to effectively respond to HIV in 2020." READ MORE
7/8/20: U.S. exit from WHO will jeopardize global fight against COVID-19, polio, other diseases, experts say (nbc news)
"The U.S. departure could also threaten other WHO programs that seek to combat drug-resistant tuberculosis, HIV, malaria, and ensure vaccinations for children and safe childbirth in poorer countries." READ MORE
7/7/20: 'Leaving the WHO Will Hurt Americans' Health (foreign policy)
"The COVID-19 pandemic threatens to double the death toll from HIV and AIDS, tuberculosis, and malaria." READ MORE
7/7/20: Foreign Aid Is A Key Part Of U.S. Foreign Policy (patch – new york)
"In addition to addressing immediate COVID-19 needs, the [Congressional earmark] takes a holistic approach to global health and seeks to accelerate the strengthening of health systems in low- and middle-income countries to manage health threats and communicable diseases, which we know all too well do not respect borders. To help sustain progress against HIV/AIDS, TB, and malaria, the earmark provides $5.93 billion for global HIV/AIDS activities, including $1.56 billion for the Global Fund and clarifies the U.S. commitment to maintaining our 33% share.'" READ MORE
7/7/20: Coronavirus lockdowns seen increasing HIV risk to women and girls (times of india)
"UNAIDS urged countries to increase investment in both HIV and COVID-19, citing the Ebola outbreak in western Africa as an example of what could go wrong." READ MORE
7/7/20: Odisha COVID-19 lockdown: Five-day shutdown ordered in urban pockets of Ganjam after spike in coronavirus cases (FINANCIAL EXPRESS – INDIA)
"Apart from checking symptoms for COVID-19, the health teams [conducting door-to-door screening] would also collect data on diseases like tuberculosis and malaria." READ MORE
7/6/20: Coronavirus-induced disruption in resources may cause 1 million extra deaths due to other diseases (Wion news – india)
"The coronavirus pandemic has absorbed the focus of all health agencies and relief groups, leaving in the lurch many suffering life-threatening diseases like HIV, AIDS, and TB." READ MORE
7/6/20: Efforts to beat the coronavirus pandemic could cause over 1 million extra deaths from other diseases, experts warn (CNN)
"'The social distancing efforts and lockdowns to control the spread of it [coronavirus], have disrupted HIV prevention and treatment programs and put vital HIV research on hold,' said Dr. Anton Pozniak, president of the International AIDS Society, last week, ahead of the AIDS2020 conference." READ MORE
7/6/20: UNAIDS report on the global AIDS epidemic shows that 2020 targets will not be met because of deeply unequal success; COVID-19 risks blowing HIV progress way off course (unaids)
"The COVID-19 pandemic has seriously impacted the AIDS response and could disrupt it more. A six-month complete disruption in HIV treatment could cause more than 500,000 additional deaths in sub-Saharan Africa over the next year (2020–2021), bringing the region back to 2008 AIDS mortality levels. Even a 20% disruption could cause an additional 110,000 deaths." READ MORE
7/6/20: When one pandemic disrupts another: The story of the coronavirus and HIV (THE WASHINGTON POST)
"Arguably, if people cannot access PrEP and testing and are just unable to do the things they need to do to keep themselves safe, we might see a slowing in the reduction in HIV infections." READ MORE
7/6/20: MSF (Doctors without borders) welcomes johnson & johnson price cut on lifesaving tb drug as an important step forward (Médicins sans frontières)
"In light of the COVID-19 pandemic, WHO has further advised countries to treat people with drug resistant-TB in the safety of their homes by using all-oral regimens, including Bedaquiline, instead of injections that require people to visit clinics, where they could possibly be exposed to other patients who have contracted the novel coronavirus." READ MORE
7/6/20: AMREF Donates Over Sh.180m To Support Fight Against Covid-19 In Nine Counties (kenya news)
"According to a Program Director, HIV, TB, Malaria and Non-Communicable Diseases at African Medical and Research Foundation, Dr. Bernard Langat, nine counties [in Kenya] would each receive 20 million Kenyan Shillings that would also address emerging issue like drastic drop in the number of patients seeking treatment in hospital due to COVID-19 fears." READ MORE
7/6/20: Efforts to beat the coronavirus pandemic could cause over 1 million extra deaths from other diseases, experts warn (abc news 7)
"'This year's pandemic and the Ebola 2014 epidemic "are very similar in certain ways,' said Dr. Emanuele Capobianco, director of health and care for the International Red Cross and Red Crescent Societies. 'I remember there was a very huge spike for malaria, because malaria was not being diagnosed. To alleviate this, tests were taken out to the community, allowing malaria to be diagnosed and treated more easily.'" READ MORE
7/4/20: I hope Metro extends to airport, Whitefield: Consulate-General of Japan (the new indian express)
"In addition to over 600,000 COVID-19 cases in the country and over 6,000 cases in Bengaluru, diseases like tuberculosis and malaria are also rampant." READ MORE
7/4/20: Let's not forget tuberculosis while fighting COVID (the jakarta post – indonesia)
"The impact of reduced availability and use of TB services [due to COVID-19 lockdowns] is that 6.3 million more people will fall ill due to TB by 2025 and 1.4 million more will die if immediate action is not taken. This puts the world at infection levels last seen five to eight years ago." READ MORE
7/3/20: Are we pacing-up the diagnosis facilities for killer diseases like TB amidst COVID-19? (express healthcare – india)
"With the ongoing pandemic, there is a significant risk that prevention and treatment programs for the existing conditions will be disrupted. Therefore, it is essential to plan and monitor the procurement and supply of TB medicines and diagnostics that are not disturbed and available to the affected individuals." READ MORE
---
Further Reading
7/2/20: Swapping production of malaria tests for covid-19 tests requires an urgent response (the british medical journal)
"…Several diagnostic companies have suggested that production dedicated to the most widely used malaria rapid diagnostic tests (RDTs) will be reallocated to covid-19 RDTs. Without malaria RDTs, healthcare workers in high endemic countries will resort to presumptive treatment, risking inappropriate use of antimalarials and development of drug resistance. This will eventually lead to an increased demand for artemisinin-based combination therapy (ACT), which is already facing supply difficulties due to the covid-19 pandemic." READ MORE
7/2/20: civil society organizations seek increased investment towards eradicating malaria (tvc news – nigeria)
"But civil society organizations in the malaria, tuberculosis and HIV response plan are concerned that funding could now dwindle for other interventions. The prevention and treatment services for various diseases have been severely disrupted since the [COVID-19] outbreak began. Major diseases like…HIV, Tuberculosis and others have experienced a shortfall in funding as regards response towards their prevention and control." READ MORE
7/2/20: COVID-19 response must incorporate TB, malaria, HIV programs as essential services (the jakarta post – indonesia)
"Hospitalized TB patients may experience respiratory failure, which usually need a ventilator to help them breathe. They must share the limited supply of ventilators with COVID-19 patients who have developed respiratory failure. The mortality rate is significantly higher in patients whose need for a ventilator cannot be met." READ MORE
7/2/20: A new deal could ease Venezuela's humanitarian crisis. The international community must get behind it. (THE WASHINGTON POST)
"Long before Venezuela confirmed its first case of COVID-19, the country was facing a humanitarian emergency: Malnutrition was on the rise; vaccine-preventable diseases that had been eradicated, like measles and diphtheria, returned; and infectious diseases such as malaria and tuberculosis spiked. Health professionals struggled, as basic utilities blinked on and off at health-care facilities and many colleagues emigrated, driving a steady decline in health-care operational capacity." READ MORE
7/2/20: COVID-19: How 170 Missed Out On ARV Care During Lockdown (nigerian tribune)
"Dr Olajide, [of the AIDS Prevention Initiative in Nigeria] however, declared that since June, the number of clients coming to the clinics for ARVs [in Oyo State] had improved, adding that 'our clients now take at least three months of drugs so that it decongests the clinic and lockdown will not be an issue.'" READ MORE
7/2/20: Africa should not be complacent with Covid-19 fatality rate – Director of African Centres for Disease Control (joy news – ghana)
"'We have to know that there are other forces that are playing against us and could play against us [and contribute to a spike in coronavirus cases], those include endemic diseases that we have for example the tuberculosis, malaria, HIV and malnutrition will play against us. And also the rising number of non-communicable diseases will also play against us,' said Dr. John Nkengasong, Director of the African Centers for Disease Control and Prevention." READ MORE
7/1/20: 'THE WORK MUST GO ON' – UNINTERRUPTED HELP FOR PEOPLE LIVING WITH HIV & TB DURING COVID-19 (united nations development programme)
"Responding to COVID-19 lockdown logistical challenges, the United Nations Development Programme, Sudanese Federal Ministry of Health, the Sudanese National Medical Supplies Fund, and World Food Programme collaborated to ensure 17 containers of HIV and TB medication and laboratory supplies continued to reach those in need [in Sudan]." READ MORE
7/1/20: COVID-19 and the Most Vulnerable (harvard medical school)
"'The coronavirus pandemic has generated a massive international response in part because it is afflicting people in richer countries and interfering with the global economy, while other diseases that ravage poorer countries, like Ebola virus disease, malaria and tuberculosis, are often ignored,' said Eugene Richardson, Assistant Professor of Global Health and Social Medicine at Harvard Medical School." READ MORE
7/1/20: Let us not allow Covid-19 crowd out other, even deadlier, diseases (daily nation – kenya)
"The resources needed to treat [AIDS, TB, cholera, malaria, polio] could run out as they are repurposed for COVID-19. According to Dr. John Nkengasong, the head of the Africa Centers for Disease Control and Prevention (CDCP), hospitals are so overwhelmed with COVID-19 cases that they're redirecting medical staff, running short on supplies and suspending other key health services." READ MORE
6/30/20: Flattening the malaria and COVID-19 curves (the hill)
"It turns out, investing in flattening the malaria curve will help us flatten the COVID-19 curve. In the same way that U.S. hospitals postponed elective surgeries to clear beds for COVID patients, it is essential that countries with a high malaria burden have effective malaria prevention programs to ensure their hospitals and clinics have the capacity needed for COVID patients." READ MORE
6/30/20: The poor lose again: Impact of Covid-19 on Africa (daily maverick – south africa)
"COVID-19 afflicts older people most severely. The disease is expected to have relatively low mortality rates in Africa compared to other regions. While Africa benefits from its younger population, this is offset by its comorbidities like tuberculosis and HIV/AIDS. In addition, vulnerabilities caused by poverty, poor nutrition, weak healthcare systems, crowded settlements, and inadequate access to clean water and sanitation are likely to lead to higher death tolls, offsetting the demographic age advantage." READ MORE
6/30/20: Malaria elimination at risk as Ghana economy improves (science and development network)
"In the context of the current COVID-19 pandemic, where lockdowns have limited access to health facilities and preventive malaria interventions have been interrupted, there is a risk that the recent progress made by Ghana in the fight against malaria will be reversed." READ MORE
6/30/20: Red Cross molecular lab can test other infectious diseases, says Gordon (manila bulletin – philippines)
"The primary purpose why [the Philippines Red Cross] put up molecular laboratories is that [the Philippines Red Cross] wants to help the country respond to COVID-19 by providing facilities where our people can be tested. But soon, we will also start testing for other diseases, [such as tuberculosis, HIV, dengue, malaria, hepatitis, leptospirosis and Zika.]" READ MORE
6/29/20: Sierra Leone tackling malaria amidst COVID-19 outbreak response (world health organization africa)
"'A special strategy was needed to carry out the distribution of the [4.6 million] bed nets in these COVID-19 hotspot communities. Safety of the frontline personnel implementing the interventions and safety of the beneficiaries was carefully thought out to mitigate people getting infected with COVID-19 in the process of protecting them from malaria,' says Evans Liyosi, WHO Country Representatives in Sierra Leone." READ MORE
6/29/20: Will the U.S. Congress Rise to the Moment and Save Lives? Or Will They Let COVID-19 Roll Back Years of Fragile Gains Against HIV, Tuberculosis, and Malaria? (health gap)
"HIV, TB, and malaria are global emergencies that kill 2.8 million people per year – a staggering loss of life that nevertheless represents progress from the worst days of the pandemics. COVID-19 is threatening to roll the clock back to the peak of the epidemics, before PEPFAR and the Global Fund existed, before the current life-saving antiretroviral treatment regimens existed, to the days when an HIV diagnosis was a death sentence." READ MORE
6/29/20: COVID-19 and HIV: What You Need to Know (poz)
"Jeff Taylor, a longtime treatment activist and advocate for long-term survivors, is working on a study that aims to follow a cohort of HIV-positive and…HIV-negative people age 50 or older to see who [contracts] the coronavirus, what kind of immune responses they mount and what the course of disease looks like over time. An important part of that will be studying the psychosocial impact of COVID-19 to see if this triggers posttraumatic stress disorder from the AIDS pandemic…and how well people cope." READ MORE
6/29/20: COVID-19 and Food Security: Crisis Within a Crisis (borgen magazine)
"In developing countries where people already deal with common diseases such as malaria, HIV/AIDS, tuberculosis and diarrhea, quality nutrition is vitally important. Worldwide, there were an estimated 150 million children suffering from malnutrition before COVID-19. Additional studies show that nutrition is vital to the successful functioning of one's immune system, especially when combating COVID-19 and other diseases." READ MORE
6/29/20: MOZAMBIQUE: Situation report (united nations office for coordination of humanitarian affairs)
"Prior to COVID-19, multiple disease outbreaks—including cholera and malaria—were already stretching Mozambique's weak health systems and 94 health centers were damaged during the cyclones. Critical services—such as sexual and reproductive health care, immunization activities and continuity of care for HIV, tuberculosis, malaria and cholera—are expected to be disrupted as resources shift to the COVID-19 response, potentially increasing maternal and infant deaths." READ MORE
6/29/20: The real impact of COVID-19 on emerging markets (pharmaphorum)
"With scarce government resources channeled into testing and treatment of COVID-19, longstanding challenges such as tackling diarrheal diseases, tuberculosis (TB), malaria and AIDS are at risk of being neglected. Together with respiratory tract infections, these conditions normally account for more than 90% of deaths in emerging nations" READ MORE
6/29/20: COVID-19: Overcoming the challenge of community transmission (the cable – nigeria)
"A good number of gene-expert test machines that were previously being used to test for tuberculosis have now been converted to test for COVID-19 infections in some [Nigerian] government hospitals." READ MORE
6/28/20: Canada pledges $300 million to address humanitarian concerns of COVID-19 abroad (canadian broadcasting corportion)
"International Development Minister of Canada Karina Gould has repeatedly stressed that Canadians' safety is linked to the success of stamping out COVID-19 abroad, and that there can be no rolling back of existing spending, or else there could be new flare-ups of preventable diseases such as tuberculosis, polio and malaria." READ MORE
6/28/20: covid-19 could roll back gains made in hiv fight (the standard – kenya)
"Currently, [UNAIDS is] looking at two colliding pandemics, (HIV and COVID-19), and we are responding by giving advice to governments on their responses. In at least 11 countries UNAIDS is leading the UN system on the task force on COVID-19. We advise governments that the COVID-19 response must be multi-sectoral because a pandemic isn't just a health issue." READ MORE
6/26/20: Coronavirus accelerates in Africa as economic damage deepens (axios)
"If health care doesn't continue to provide the essential gains that have been provided over the last decade, you could see as many as 10 times as many deaths from malaria, tuberculosis and other infectious disease causes as from COVID even in a large COVID outbreak, Tom Frieden, former CDC director, warns." READ MORE
6/25/20: Death, debt and opportunity: cost of COVID-19 in Africa (Institute for security studies)
"With Ebola in Guinea, Liberia and Sierra Leone from 2014 to 2016, resources diverted from basic health care prompted increases in malaria, HIV/AIDS, TB and maternal mortality. If the same happens with COVID-19, then HIV, TB and malaria deaths may increase by up to 36% in Africa over five years." READ MORE
6/25/20: Coronavirus fears leave pregnant papua new guinea women at risk despite nation's low infection rate (abc news – australia)
"ChildFund said the treatment and management of the disease amid the coronavirus pandemic was a major concern. It is said some rural health facilities [in Papua New Guinea] had already halted some tuberculosis treatment services because staff lacked training on how to manage COVID-19 cases and tuberculosis had similar symptoms to coronavirus." READ MORE
6/25/20: Mumbai can see flattening of COVID curve by mid-July, normalcy of life by August: Health expert (economic times – india)
"In the coming days, we are going to face another challenge for COVID-19 treatment as we will have patients suffering from fever due to malaria, dengue or other monsoon related diseases. And then, it will be more difficult to segregate COVID and non-COVID patients." READ MORE
6/25/20: Germany ramps up its contribution to the HIV response with an extra €20 million to UNAIDS (unaids)
"Modelling suggests that an unmitigated six-month interruption of HIV services due to COVID-19 could double AIDS-related deaths in sub-Saharan Africa, setting the clock on AIDS-related deaths in the region back to 2008, and could increase new pediatric HIV infections by up to 162%." READ MORE
6/25/20: Ensuring continuity of tuberculosis care during the covid-19 crisis (the british medical journal)
"Despite rising case numbers, many countries are now starting to ease lockdowns and restrictions. This will result in a large surge of people seeking care after weeks of deferring medical consultations. They will present with more advanced TB disease for two reasons: long delays in diagnosis of undiagnosed patients and interrupted treatment for those who had TB when lockdowns were imposed." READ MORE
6/25/20: COVID-19 Could Cause a Shortage of HIV Meds This Summer (unaids)
"The UNAIDS report flagged six pharmaceutical ingredients that are in high demand for HIV generic meds and are at greater risk for shortages. UNAIDS recommends that governments and suppliers take steps now to ensure a steady supply of meds." READ MORE
6/24/20: The pandemic could erase 20 years of progress against tuberculosis, H.I.V. and malaria, an NGO warns (the new york times)
"In low-income nations, the pandemic may erase 20 years of hard-fought progress against tuberculosis, H.I.V. and malaria, diseases that together claim more than 2.4 million lives each year." READ MORE
6/24/20: Fight against malaria, TB and HIV hit as resources diverted to Covid-19, survey shows (The Daily telegraph – United Kingdom)
"The survey shows that HIV and TB laboratory services are under huge pressure, with 20 per cent experiencing high or very high levels of disruption with many now focused on testing for COVID-19." READ MORE
6/24/20: Global Fund COVID-19 Report: Deaths from HIV, TB and Malaria Could Almost Double in 12 Months Unless Urgent Action is Taken (yahoo finance)
"[The Global Fund] estimates that approximately US$28.5 billion is required for the next 12 months to adapt HIV, TB and malaria programs to mitigate the impact of COVID-19, to train and protect health workers, to reinforce systems for health so they do not collapse, and to respond to COVID-19 itself, particularly through testing, tracing and isolation and by providing treatments as they become available (this does not include the cost of a vaccine)." READ MORE
6/24/20: IdeaStream 2020 goes virtual (mirage news)
"Prior to the pandemic, the Hadley D. Sikes Lab had developed immunoassays using engineered binding proteins that successfully identified markers for malaria, tuberculosis, and dengue. Now they have applied that technology to develop a rapid COVID-19 diagnostic test. The paper-based tests would be easily administered by anyone, with results expected within 10 minutes." READ MORE
6/24/20: Global Fund COVID-19 Report – Deaths From HIV, TB and Malaria Could Almost Double in 12 Months Unless Urgent Action Is Taken (all africa)
"The Global Fund estimates that countries affected by HIV, tuberculosis and malaria urgently need US$28.5 billion to protect the extraordinary progress achieved in the fight against the three diseases in the past two decades." READ MORE
6/24/20: UNAIDS Executive Director sets out HIV/COVID-19 landscape at opening of PCB meeting (unaids)
"Even before COVID-19 [UNAIDS was] not on track to meet our targets for 2020. Now the COVID-19 crisis risks blowing us way off course. As a Joint Program, we must address the deeper challenges to recover from this crisis to beat both pandemics and foster safe, equitable and resilient societies," [said Winnie Byanyima, Executive Director of UNAIDS]." READ MORE
6/23/20: Quarantine is key to stemming the Covid-19 pandemic, but it's not easy, says deputy health minister Joe Phaahla (daily maverick – south africa)
"The surge plan involves deploying 10,000 volunteers to screen 1.6 million households in the province, with 100 doctors working closely with 1,000 nurses in communities. Professional nurses will be assigned to community healthcare workers to support them. They are all being provided with equipment to also test blood pressure, TB and malaria." READ MORE
6/23/20: National Budget 2020/21: Where Will Rwanda Spend The Money? (kt press)
"Dr. Ndagijimana said that a portion of the money [from the national budget] will go towards continuing awareness campaigns and prevention measures against the spread of the COVID-19 epidemic as well as treatment for tuberculosis, malaria and HIV/AIDS. Some 61 billion [Rwandan francs] will go into sustaining the fight against malaria and other epidemic diseases such as AIDS and tuberculosis." READ MORE
6/23/20: Joining forces to prevent 1.4 million TB deaths (jakarta post – indonesia)
"It is estimated that globally, a three-month lockdown and a protracted 10-month restoration period could lead to an additional 6.3 million people falling ill with TB and an additional 1.4 million TB deaths caused by the COVID-19 pandemic between 2020 and 2025. This would result in a setback of at least five to eight years in the fight against TB, bringing global TB incidence and deaths to levels not seen since 2013 or 2016." READ MORE
6/23/20: National Budget 2020/21: Where Will Rwanda Spend The Money? (kt press)
"Dr. Ndagijimana said that a portion of the money [from the national budget] will go towards continuing awareness campaigns and prevention measures against the spread of the COVID-19 epidemic as well as treatment for tuberculosis, malaria and HIV/AIDS. Some 61 billion [Rwandan francs] will go into sustaining the fight against malaria and other epidemic diseases such as AIDS and tuberculosis." READ MORE
6/23/20: Indonesia children at risk as COVID-19 disrupts vaccination drive (al jazeera)
"More than 80 percent of inoculation programs in Indonesia have been disrupted by COVID-19, and the government says it is trying to get them back on track, with the health ministry advising provinces on how to continue vaccinating, safely. But even a brief pause in these essential programs could put millions of children's lives at risk." READ MORE
6/23/20: At ASM Microbe, White House's Deborah Birx Urges COVID-19 Test Pooling and Community Outreach (360 dx)
"Deborah Birx: I have always found that if the community is informed about the science, and understands why it is important, the community will respond to that knowledge and stop pandemics. We've seen it with TB, HIV, malaria, and Ebola — an informed community is a protected community." READ MORE
6/22/20: Poverty Dramatically Increases COVID-19 Death Risk, Researchers Say (voa news)
"'HIV-, TB- and malaria-related deaths over the next five years in high burden settings may be increased by up to 10, 20 and 36 respectively,' Peter Winskill of Imperial College London said." READ MORE
6/22/20: COVID-19 could affect the availability and cost of antiretroviral medicines, but the risks can be mitigated (unaids)
"The production of antiretroviral medicines has been affected by several factors. Air and sea transport is being severely curtailed, hampering the distribution of the raw materials and other products…that pharmaceutical companies need to manufacture the medicines. Physical distancing and lockdowns are also restricting the levels of human resources available in manufacturing facilities. The combined result of shortages of materials and workforces could lead to supply issues and pressure on prices in the coming months, with some of the regimens for first-line treatment and those for children projected to be the severest hit." READ MORE
6/20/20: Ramp Up COVID-19 Testing In Containment Zones, Hospitals: ICMR To States (business world – india)
"Rapid antigen-based detection assays have been used successfully for early diagnosis of diseases like Malaria, Leishmania, viral and bacterial respiratory infections etc. Such tests can be used as point of care diagnostics in field settings and have minimal biosafety and biosecurity requirements. In view of this, [Indian Council of Medical Research] had been exploring alternate quick and reliable options for diagnosis of COVID-19." READ MORE
6/20/20: Watch: 'Stringent lockdowns alone are not the solution' says WHO's Soumya Swaminathan (Scroll – india)
"Apart from dealing with COVID-19, people are getting infected with other diseases. Babies are being born, children have to be immunized and antenatal care has to be provided. Tuberculosis hasn't gone anywhere, and neither has malaria, it's even more important now that we don't forget about all of those things that have traditionally killed millions of people every year, particularly in the lower-income countries." READ MORE
6/19/20: Coronavirus: Why renewed focus on excess mortality could pose a challenge for India (Scroll – india)
"National Health Mission data point to a significant disruption in health services, including for potentially life-threatening conditions such as cancer and tuberculosis. These patients will have experienced a severe degeneration in their conditions, including those with chronic kidney disease, diabetes, tuberculosis and heart disease. The health outcomes of such patients could increase overall mortality." READ MORE
6/19/20: Lockdown impacting on HIV prevention programme for adolescent girls and young women (daily maverick – south africa)
"Under Levels 5 and 4 of South Africa's COVID-19 lockdown regulations, adolescent girls and young women aged 14 to 24 years could not meet face-to-face in specially created safe spaces with counsellors, as part of a combination HIV intervention program. This [circumstance] has meant opportunities to encourage them to begin taking and adhering to pre-exposure prophylaxis (PrEP) to prevent HIV were lost, putting them at higher risk of HIV infection." READ MORE
6/19/20: The Latest: Portugal lashes out over EU virus restrictions (wboc news)
"RBM Partnership to End Malaria says there is an immediate need for another 105 million rapid testing kits for malaria this year. It says the COVID-19 pandemic and demand for testing kits and potential drugs is creating shortages and price increases of malaria testing kits and "active pharmaceutical ingredients" used in malaria medicines." READ MORE
6/18/20: Welcoming early results on use of dexamethasone in sickest COVID-19 patients, WHO warns it's 'no cure-all' (UN NEWS)
"While COVID-19 is touching every corner of the world, Mr. Tedros stressed the need to remain focused as well on essential public health concerns such as malaria, tuberculosis and HIV-AIDS." READ MORE
6/18/20: Covid-19 remains on focus; Treatment of TB, AIDS, malaria and child health loses priority (the policy times)
"According to the reports of Stop TB Partnership, during the lockdown period, there has been a 10% increase in TB deaths which means 1.4 million excess deaths." READ MORE
6/18/20: How Covid is making it tougher to tackle TB, AIDS, malaria and child health (the print – india)
"A six-month interruption to the supply of antiretroviral therapy in sub-Saharan Africa could lead to more than half a million excess deaths from HIV in 2020 alone." READ MORE
6/17/20: COVID-19 disrupts essential health services in fragile settings; risks reversing health gains (world health organization)
"The disruption of routine health care services for a prolonged period may have a devastating impact, including: a 20% reduction in life-saving vaccination coverage…and a 13% increase in childhood mortality. A similar situation was also observed during the 2014–2015 outbreak of Ebola virus disease in Africa where analyses suggested that the increased number of deaths caused by measles, malaria, HIV/AIDS and tuberculosis attributable to health system failures exceeded deaths that were directly attributable to Ebola virus disease." READ MORE
6/17/20: The other infectious diseases spreading in the shadow of the pandemic (Vox)
"But as [immunization] campaigns are paused or cut back and as people miss routine care due to the coronavirus pandemic, [infectious diseases, including tuberculosis, HIV, malaria, and polio] are getting a rare opportunity to come roaring back." READ MORE
6/17/20: Understanding the Impact Of COVID-19 On Essential Medicine Supply Chains (Center for global development)
"The COVID-19 pandemic has triggered a number of challenges that have led to shortages and price hikes, and could potentially fuel an epidemic of fake and substandard medicines, including: severe supply chain blocks caused by significant decreases in air cargo capacity, sea freight, and transport logistics; export restrictions by supplier countries related to both COVID-specific commodities, the slowdown in production of medicines in affected countries." READ MORE
6/17/20: Global Fund Survey: Majority of HIV, TB and Malaria Programs Face Disruptions as a Result of COVID-19 (the global fund)
"…Deaths from HIV, TB and malaria could as much as double in the coming years as a result of the COVID-19 pandemic, wiping out many years of hard-fought gains, unless we can urgently provide health workers with the training, resources and protective equipment they need to safely continue their work." READ MORE
6/17/20: HIV patients fail to access ARVs (the herald – zimbabwe)
"Patients cannot afford the high cost of drugs in these COVID-19 times where supplies from pharmacies cost US $25." READ MORE
6/16/20: Timely diagnosis is critical in healthcare (business daily)
"During this pandemic, there is a great need for policymakers in health to ensure that they strike a balance between the health response to COVID-19 with the need for continuous delivery of other health services such as cardiovascular diseases, cancer, HIV, diabetes, respiratory illnesses like TB and other critical healthcare services amongst the entire population." READ MORE
6/16/20: Compulsory licensing in COVID-19: Does it differ from the global HIV/AIDS pandemic? (times now – india)
"AbbVie voluntarily decided it would not enforce its global patent rights on Kaletra, [an antiretroviral approved for treatment of HIV], thus allowing countries to purchase generics of the drug if the drug is effective for COVID-19." READ MORE
6/15/20: Virtual Hearing on the Impact of COVID-19 in Sub-Saharan Africa (united states house intelligence committee)
During a House Intelligence Committee hearing, Chairman Adam Schiff asked Amb. Thomas-Greenfield to explain how COVID-19 is affecting HIV and malaria around the world. Amb. Thomas-Greenfield noted that individuals have changed their health-seeking behavior to limit hospitals visits, even when ill. In addition, Amb. Thomas-Greenfield mentioned that "many HIV patients have been unable to retrieve their antiretroviral medications due to COVID. " VIRTUAL HEARING
6/15/20: drc: covid-19 continues to spread, with potentially deadly secondary impacts (médecins sans frontières)
"Many people fear they will be infected with the virus by going to health facilities deemed under-equipped with [PPE], or they fear being isolated and stigmatized for a long time due to the delays in obtaining test results. This situation affects the care of sick people and the monitoring of their treatment, especially for conditions such as diabetes, tuberculosis, malaria, and HIV/AIDS." READ MORE
6/15/20: Covid-19 fuelling mother and child mortality rates (hindustan times – india)
"During the monsoons, there is a rise in malaria and vaccine-preventable diarrhea, pneumonia and measles, which are the biggest cause of under-5 deaths in India. If childhood vaccines are missed, [infant mortality rate], malnutrition and stunting will rise and prevent India from meeting its Sustainable Development Goal of bringing IMR down to 25 or less by 2030." READ MORE
6/14/20: Health minister explains Uganda's false COVID positives (the observer – uganda)
"The number of diagnosed and treated malaria cases [in Uganda] increased by 56 per cent between January and April 2020 compared to the same period last year." READ MORE
6/13/20: Pandemic Perspective: What The 20 Poorest And Richest Countries Spend On Health Care (capital public radio)
"People will drastically reduce their use of very important measures that are available to address other causes of disease and mortality. They will stop getting immunized because they're afraid to go to the clinic. They will stop getting more treatment for tuberculosis, malaria, [HIV] or other problems that are prevalent." READ MORE
6/13/20: Reason for hope as Africa responds to the Covid 19 pandemic-research (independent online – south africa)
"It is estimated that about 769,000 people could die from malaria alone if funding and campaigns are suspended due to this COVID-19 pandemic." READ MORE
6/13/20: Tata Trusts-backed India Health Fund to promote start-ups developing means to fight diseases like COVID-19 (businesss today – india)
"We were so far concentrating on malaria and tuberculosis and will soon work with the government agencies, national and international foundations and private corporations to raise funds targeting a corpus of about [20 billion rupees] in the coming years to invest in technologies related to infectious diseases like COVID-19. "READ MORE
6/12/20: History of insightful HIV research inspires neutron scattering approach to studying COVID-19 (oak ridge national laboratory)
"The protease enzymatic activity that enables HIV to reproduce…is the same replication mechanism employed by SARS-CoV-2, the virus that causes the disease COVID-19. Now, a team [of researchers at the Department of Energy's Oak Ridge National Laboratory] has shifted the focus of the experimental approach they intended to use to study HIV to combat the new global threat." READ MORE
6/12/20: Malaria May Still Be 2020's Biggest Killer (Foreign policy)
"…Disruptions to malaria prevention and treatment caused by the coronavirus could see malaria deaths double this year. The increase alone—estimated at the worst case to be 369,000—would almost equal the current confirmed death toll of COVID-19. With peak malaria season rapidly approaching in major malaria-endemic countries, the window of time in which to avoid disaster is rapidly closing." READ MORE
6/12/20: Service Members at 2 U.S. Embassies Aid in Protective Equipment Transfer (United states dept. of defense)
"Together, we are working to overcome the COVID-19 pandemic, to protect people who are most vulnerable to contracting this disease and to preserve the advances Eswatini has made in the fight against HIV and AIDS." READ MORE
6/11/20: Why South Africa's coronavirus outbreak could be a 'catalyst for transformation' (national geographic)
"For years, South Africa's public health-care sector has tried to integrate its relatively well-resourced but stand-alone HIV and TB programs with its under-resourced general health services. The coronavirus crisis could be a catalyst for this transformation." READ MORE
6/11/20: Kenya's Covid-19 death toll rises to 92 after 3 new fatalities (Daily nation – kenya)
"The Health ministry said it needed funds to manage cancer and hypertension, infectious diseases such as TB, epidemics such as malaria, and carry out immunization programmes." READ MORE
6/11/20: ODISHA TO CONDUCT STATE-WIDE DOOR-TO-DOOR SURVEILLANCE CAMPAIGN AGAINST COVID-19 (NDTV – INDIA)
"As the next few weeks are critical in controlling the spread of coronavirus as well as monsoon-induced communicable diseases, the [Odisha] Health Department will conduct a campaign for active surveillance against COVID-19, co-morbidities, TB, malaria and diarrhea," READ MORE
6/11/20: Cost, benefits of fighting COVID-19 (Graphic – ghana)
"Models show that along with limiting COVID-19 deaths, moderate social distancing will also improve treatment of some diseases, such as, HIV, but reduce the effectiveness of other treatments, such as, those for malaria and tuberculosis." READ MORE
6/10/20: Nigeria to cut healthcare spending by 40% despite coronavirus cases climbing (the guardian)
"Funding for local, primary healthcare services will be cut by more than 40% this year in a revised budget expected to be passed into law in the coming weeks. The proposed cuts could affect immunizations, childcare, maternal healthcare and family planning services." READ MORE
6/10/20: People with HIV, TB have twice the risk of death from coronavirus, report finds (The globe and mail)
"Overall, people with HIV or TB had a two or three times higher risk of dying from the coronavirus, the report suggested. But [the report] cautioned that it is difficult to disentangle the various risk factors that can combine to affect deaths, especially those such as obesity and poverty, where data is lacking." READ MORE | PRESENTATION
6/10/20: 'Flying blind': Doctors race to understand what COVID-19 means for people with HIV (stat news)
"Drs. Cachay and Shapiro are leading a team examining the records of people living with HIV who have also had COVID-19. They plan to add coronavirus antibody testing to upcoming patient appointments so they can include in their study people who had asymptomatic or mild cases of the disease without knowing they were sick. READ MORE
6/9/20: Covid-like pandemics cast shadow on developing medicines for children (Business Line – India)
"Pandemics like the coronavirus COVID-19 disrupt even basic services and supply of treatments for many diseases including HIV, malaria and TB, with a consequent impact on mortality and infection rates." READ MORE
6/9/20: In Kenya, A Chance to See Communities Confront COVID-19 (LinkedIn)
"[Community health workers] integrate COVID-19 related health messages to their malaria briefings in their visits to communities [in Homa Bay]." READ MORE
6/8/20: Rural India and coronavirus: Non-COVID patients suffer as healthcare services disrupted (CNBC Tv18)
"Health experts have been pointing to the negative impact of lockdown and government's narrow approach to divert all health resources on controlling COVID-19 on other diseases and illnesses, such as TB, AIDS, and malaria. TB in particular requires regular medication, constant follow-ups and diagnosis." READ MORE
6/7/20: Coronavirus disrupts HIV prevention efforts in Africa (The east african)
"Health workers and sex workers…came up with creative ways to ensure registered HIV patients continue receiving drugs: Home deliveries using bikes, multi-month refills. But HIV testing, PrEP, drop-in centres for vulnerable groups and medical male circumcision, were scaled back and sometimes closed completely — all of which are vital in detecting and preventing new infections." READ MORE
6/7/20: Key populations abandoned as COVID-19 crackdowns undo Africa's HIV efforts (Daily Monitor – Uganda)
"Uganda's ban on public gatherings ruled out health talks for sex workers, fisher folk and other at-risk groups. When transport was prohibited, except for cargo trucks, most organizations grounded their health outreach teams." READ MORE
6/6/20: How The Coronavirus Pandemic Has Impacted International Research Programs: A Personal Perspective (FORBES)
"We have already been asked to make provision for dealing with a 25% decrease in our budget due to funding redirection. This will have the impact of closures of some of our clinics and not being able to reach as many people for HIV prevention and care services." READ MORE
6/5/20: COVID-19 in Sub-Saharan Africa Threatens HIV Population (BORGEN)
"They caution global COVID-19 relief teams working in [Sub-Saharan Africa] to prepare for higher morbidity and mortality rates due to the already HIV-endemic setting." READ MORE
6/4/20: COVID-19: "It was never an option for us to drop our regular medical services" (Medecins sans frontieres)
"In our HIV, tuberculosis, hepatitis C and non-communicable disease projects in countries as diverse as South Africa, Ukraine, Pakistan and Cambodia, we have reduced routine consultations and distributed essential drugs to patients for longer periods (one to six months depending on the person's health condition) so that they do not have to visit a health facility as often." READ MORE
6/2/20: 6,000 children could die daily over Covid-19 impact (Daily nation – kenya)
"Global disruption of essential maternal and child health interventions such as immunization, family planning, birth and postnatal care could lead to an additional 1.2 million deaths of under-fives in just six months." READ MORE
6/2/20: Coronavirus Crisis Update: South Africa's Difficult Truth (Center for strategic & international studies)
"Professor Salim Abdool Karim…surveys acute vulnerabilities of those living with HIV and TB… [during the COVID-19 pandemic in South Africa]." READ MORE
6/2/20: Africa's sick get sicker as serious ailments are ignored in Covid-19 pandemic (Business Day – South Africa)
"In South Africa, which has the world's largest HIV epidemic and 300,000 people with tuberculosis, fear of the coronavirus has emptied hospitals. Although clinics remain open, the number tested for TB has dropped by half, and HIV testing is down a quarter since the national lockdown began on March 27." READ MORE
6/2/20: Kenyans Living Beyond Their 60s, Shows Report (All Africa)
"…Gains in the fight against malaria may be reversed during this COVID-19 crisis due to an overall shortage of services, while prevention and treatment of non-communicable diseases, such as cancer, have also been affected." READ MORE
6/2/20: Just 6 years after Ebola killed more than 11,000 people, West African nations are bracing for a coronavirus spike (Business Insider)
""People get scared not to go to the different health centers. They maybe might not be suffering from COVID-19 itself — it might be malaria, it might be HIV, it might be tuberculosis— and sometimes you find out when they rush with the child to the hospital that sometimes it's already late." READ MORE
6/2/20: In Peru's Amazon, the church fills COVID-19 aid void for indigenous people (The New Humanitarian)
"Indigenous people…are at particular risk because they already suffer from high rates of food insecurity and non-communicable diseases, such as diabetes. [Indigenous people] are also affected by tuberculosis and tropical diseases like malaria and dengue. A severe outbreak of dengue last year strained the resources of hospitals in Peru's Amazonian region, and there are still cases in some communities that must now deal with COVID-19." READ MORE
6/1/20: HIV burden makes Homa Bay vulnerable to Covid-19, says MP (The Star – Kenya)
"MP Martin Owino said HIV patients are immuno-suppressed and could lose their lives should they contract the coronavirus." READ MORE
6/1/20: Lockdown worsens plight of HIV, tuberculosis patients (DAILY MONITOR – UGANDA)
"Coronavirus has worsened the plight of people living with HIV/AIDS. Hunger has led to poor adherence to treatment. We have a number of patients who are in dire need." READ MORE
6/1/20: India is Reporting Lesser Tuberculosis Deaths Owing to Diversion of Resources to COVID-19 Mitigation Programs (The New Leam)
"During the lockdown, reporting and documenting of deaths related to TB has been on a decline and this has not allowed us to [assess the] real extent of the problem. This lag in data collection and assimilation [is] to be blamed as one of the core reasons why there seems to be a steady decrease in the number of tuberculosis related deaths." READ MORE
May 2020: Focus on COVID-19 (The Global Fund)
"The COVID-19 pandemic threatens us all and could destroy years of progress against HIV, TB and malaria." READ MORE
5/31/20: HIV Cure Research Has Slowed, But Still Progresses (Contagion)
"Scientists conducting research on an HIV vaccine cure…have been repurposed and put to work researching promising therapies and vaccine candidates for the novel coronavirus. I don't see much happening [with HIV research] until we get the COVID-19 [vaccine]" READ MORE
5/27/20: Continuing essential service delivery in a pandemic: HIV, tuberculosis, and malaria solutions in action (PATH)
"HIV, TB, and malaria service delivery platforms are being leveraged to support the COVID-19 response while mitigating its impact on delivery of essential health services and protecting frontline health care providers." READ MORE
5/27/20: Coronavirus hampers Africa's fight against malaria, TB (Deutsche Welle)
"African countries have imposed tough measures against COVID-19. But it may come at the cost of other untreated diseases such as malaria and AIDS." READ MORE
5/21/20: How coronavirus lockdowns stopped flu in its tracks (Nature)
"The international organization the Stop TB Partnership released a report in May estimating that a 3-month lockdown and a 10-month period of recovery would cause an additional 1.37 million deaths [from TB] globally during the next 5 years." READ MORE
5/21/20: Lockdown Fears for Key Populations (The Lancet HIV)
"With much of the world's population under COVID-19 lockdown, curfews, and travel restrictions, access to HIV testing and treatment services is a significant concern for people with HIV and those who provide care." READ MORE
5/21/20: Uganda women fear food shortages will make coronavirus and HIV a deadly mix (Thomas Reuters Foundation)
"HIV-positive women in Uganda fear for their health as food shortages leave them unable to take medication." READ MORE
5/21/20: WHO Predicts COVID-19 Will Take Heavy Toll in Africa (US News)
"[COVID-19] related increases in hospital care would divert already scarce resources for major health problems in Africa — such as HIV, tuberculosis, malaria and malnutrition — which would worsen the impact of the new coronavirus, the study warns." READ MORE
5/20/20: COVID-19 & PEPFAR: Implications for the Future (KFF)
"COVID-19 has the potential to deeply impact PEPFAR countries, especially those in sub-Saharan Africa and, as such, affect PEPFAR's future trajectory." READ MORE
5/20/20: How Have Organizations Adapted Their HIV Interventions During COVID-19? (Frontline AIDS)
"Together with experts from across the Frontline AIDS partnership we explored the changing needs of marginalised people, followed by a live discussion with people from communities affected by the pandemic." READ MORE
5/20/20: COVID-19: Lockdown takes heavy toll on SA's TB response (Spotlight)
"As South Africa nears day 55 of its COVID-19 lockdown, a new modelling study by the Stop TB Partnership suggests that the longer countries spend under lockdown, the more tuberculosis (TB) cases and deaths the world could see." READ MORE
5/19/20: Almost 11,000 HIV-positive patients in Gauteng, South Africa have skipped ARV collection during lockdown (Sowetan Live)
"The Gauteng health department on Tuesday said it was trying to trace thousands of TB and HIV-positive patients who have failed to collect their medication since the start of the lockdown on March 27 2020." READ MORE
5/19/20: The high possible cost of COVID-19 on new HIV infections among children (UNAIDS)
"New modeling has shown that the COVID-19 pandemic could have a major impact on new HIV infections among children in sub-Saharan Africa." READ MORE
5/17/20: COVID-19 Outbreak in Nigeria Is Just One of Africa's Alarming Hot Spots (New York Times)
"Dozens of doctors are infected and gravediggers are overwhelmed in Kano, Nigeria's second-largest city, where inaction led to an unchecked outbreak. Across Africa, other hot spots are emerging." READ MORE
5/17/20: Leading South Africa Health Experts Warn That COVID-19 Response is Hurting Other Health Priorities (GroundUp)
"Children are suffering increasingly from preventable infectious diseases, including TB and measles, due to missed vaccinations." READ MORE
5/16/20: Over 145 TB patients die in Agra without treatment during lockdown (India Today)
"Over 145 tuberculosis patients have died in the past 54 days in Agra. The toll is more than six times the usual number of deaths from TB in the city." READ MORE
5/14/20: COVID-19 likely to undo HIV/AIDS Gains (Daily Nation)
KENYA – "Due to stigma, many HIV clients choose to register for ARVs at public facilities that are far from their areas of residence. A number of health facilities have recorded a drastic reduction in the number of people showing up to collect their drug supplies." READ MORE
5/12/20: Is COVID-19 making it harder to treat other diseases in Africa? (Al Jazeera)
"The coronavirus pandemic is putting enormous strain on health systems worldwide. In some countries, that means resources are being diverted from other treatments. Patients with illnesses such as HIV, tuberculosis or malaria risk having their treatment interrupted." READ MORE
5/12/20: Watch: UNAIDS director warns of 'colliding epidemics' (Devex)
"Saying "the virus has found a very unequal world," UNAIDS Executive Director Winnie Byanyima warned that COVID-19 will hurt the most vulnerable, including people living with HIV." READ MORE
5/11/20: AIDS, TB And Malaria Set To Get Deadlier Due To Coronavirus (Forbes)
"The 'Big Three' are predicted to get bigger. AIDS, TB and malaria are predicted to kill many more in the coming months and years. COVID-19 could potentially double the number of malaria deaths in sub-Saharan Africa in 2020 when compared with 2018." READ MORE
5/11/20: AIDs deaths could double in sub-Saharan Africa due to COVID-19 (RFI)
"The number of deaths from AIDS-related illnesses in sub-Saharan Africa could double if the provision of healthcare to HIV sufferers is disrupted during the coronavirus crisis, the United Nations said Monday." READ MORE
5/10/20: Impact of COVID-19 Intervention on TB Testing in South Africa (National Institute for Communicable Diseases – South Africa)
"The COVID-19 level 5 restrictions has resulted in a ~ 48% average weekly decrease in TB Xpert testing volumes while, the number of TB positive declined by 33%." READ MORE
5/8/20: Coronavirus pandemic could contribute to surge of other deadly diseases, experts warn (CNN)
"Cases of malaria, HIV/AIDS and other diseases could surge worldwide in coming months as global health systems rally to battle the coronavirus pandemic, global health experts tell CNN." READ MORE