The COVID-19 pandemic is having a serious impact on the most vulnerable communities worldwide and threatens progress on HIV, TB, malaria, vaccination and other areas of health.
Below, you can find regularly updated information on the impact of COVID-19 on HIV/AIDS, TB and malaria and news items from around the world on important developments.
1. How the Global Fund is Responding to COVID-19
2. COVID-19 and HIV/AIDS
3. COVID-19 and Malaria
4. COVID-19 & Tuberculosis
5. Featured Articles
6. Latest News
7. Further Reading
Want updates in your inbox? Sign up here:
How the Global Fund is Responding to COVID-19
A new report from the Global Fund shows COVID-19 has massively disrupted health systems and health service delivery for HIV, TB and malaria in low- and middle-income countries in Africa and Asia in 2020.
The report highlights the urgent need to scale up adaptive measures to continue HIV, TB and malaria services, to ramp up delivery of critical supplies for the COVID-19 response and prevent health care systems from collapse. The U.S. contribution of $3.5 billion for the COVID-19 related response in the American Rescue plan is allowing the Global Fund to respond to those urgent needs.
The data in the new report shows that for April to September 2020, compared to the same six-month period in 2019:
HIV testing fell 41%
TB referrals – where patients suspected of having TB are referred to the next step of diagnosis and treatment – declined by 59%
Malaria diagnoses fell by 31%
Antenatal care visits fell by 43%
The snapshot also shows that countries that implemented adaptive measures to counter the impact of COVID-19 on health service continuity fared better than those that did not adapt.
Results from the Global Fund's latest biweekly survey show challenges for HIV prevention and HIV, TB and malaria case finding. In addition, the Global Fund is seeing cancelled or delayed prevention activities and laboratory staff being reassigned to COVID-19 – twenty percent of HIV and TB lab services are experiencing high or very high disruptions.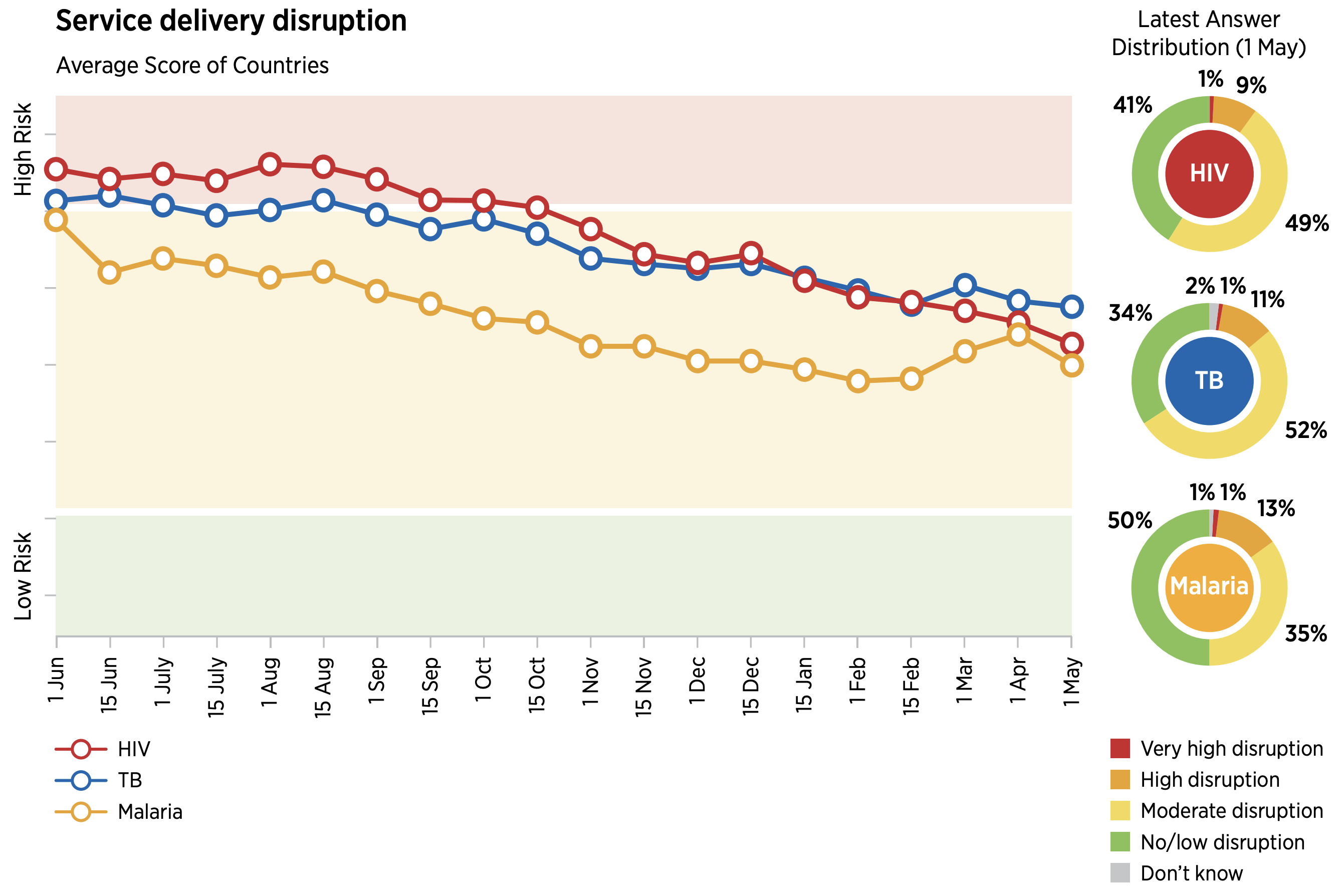 HIV: Prevention, testing and support for people living with HIV are still the most impacted. Nearly two thirds of countries are experiencing disruptions in HIV service delivery, with 10% of countries still experiencing high level disruption.
TB: Nearly two thirds of countries are experiencing disruptions in TB service delivery, with 11% of countries reporting high or very high disruption.
Malaria: More than half of countries are experiencing disruptions in malaria service delivery, with 15% of countries reporting high or very high disruption.
Activities are being canceled due to:
Lockdowns
Restrictions on gatherings of people
Transport stoppages
COVID-related stigma
Reluctance of health workers to attend to people suspected of having TB or malaria – which have many of the same initial symptoms as COVID-19
Clients not seeking health services as usual
"At the current rate, COVID-19 is killing about the same number of people every month as HIV, tuberculosis and malaria combined. However, the death toll from these three diseases will have increased as a result of the knock-on impacts from the COVID-19 pandemic, due to lockdowns, resources diverted to the new virus, and interruptions to lifesaving services. Moreover, some of the countries that have so far been spared the worst of COVID-19 itself may be hardest hit by its economic consequences," said Peter Sands, Executive Director of the Global Fund. "No country is immune to the spiraling economic costs of the pandemic; prolonged economic shocks leave deep scars, which will have profound effects on people's health in the years to come."
---
COVID-19 & HIV/AIDS
Lockdowns had a marked effect on HIV testing and antiretroviral treatment in South Africa, according to the Lancet HIV.
A study in the United Kingdom found people with HIV seem to be at an increased risk of COVID-19 mortality.
---
COVID-19 & Malaria
New PMI head Raj Panjabi recently told NPR, "Just because COVID is infecting so many people doesn't mean the malaria disease burden has gotten any less. It's gotten worse because COVID has disrupted health care systems dramatically and that has put the strain on health workers and clinics, disrupted supply chains as well. We need to make sure nets and malaria tests and treatments get to people."
Malaria programs have experienced only "moderate" disruptions, according to WHO, but those disruptions can lead to tens of thousands of deaths.
---
COVID-19 & Tuberculosis
Global Fund surveys show that due to COVID-19, 29% fewer people were tested for TB compared to 2019. In 2020, TB notifications dropped 42% in Indonesia, 41% in South Africa, 37% in the Philippines and 25% in India, compared to the previous year.
According to data from the Stop TB Partnership, the first year of COVID-19 eliminated 12 years of progress against TB.
New data from India and South Africa indicate co-infection with TB and COVID-19 leads to three times higher mortality than TB infection alone.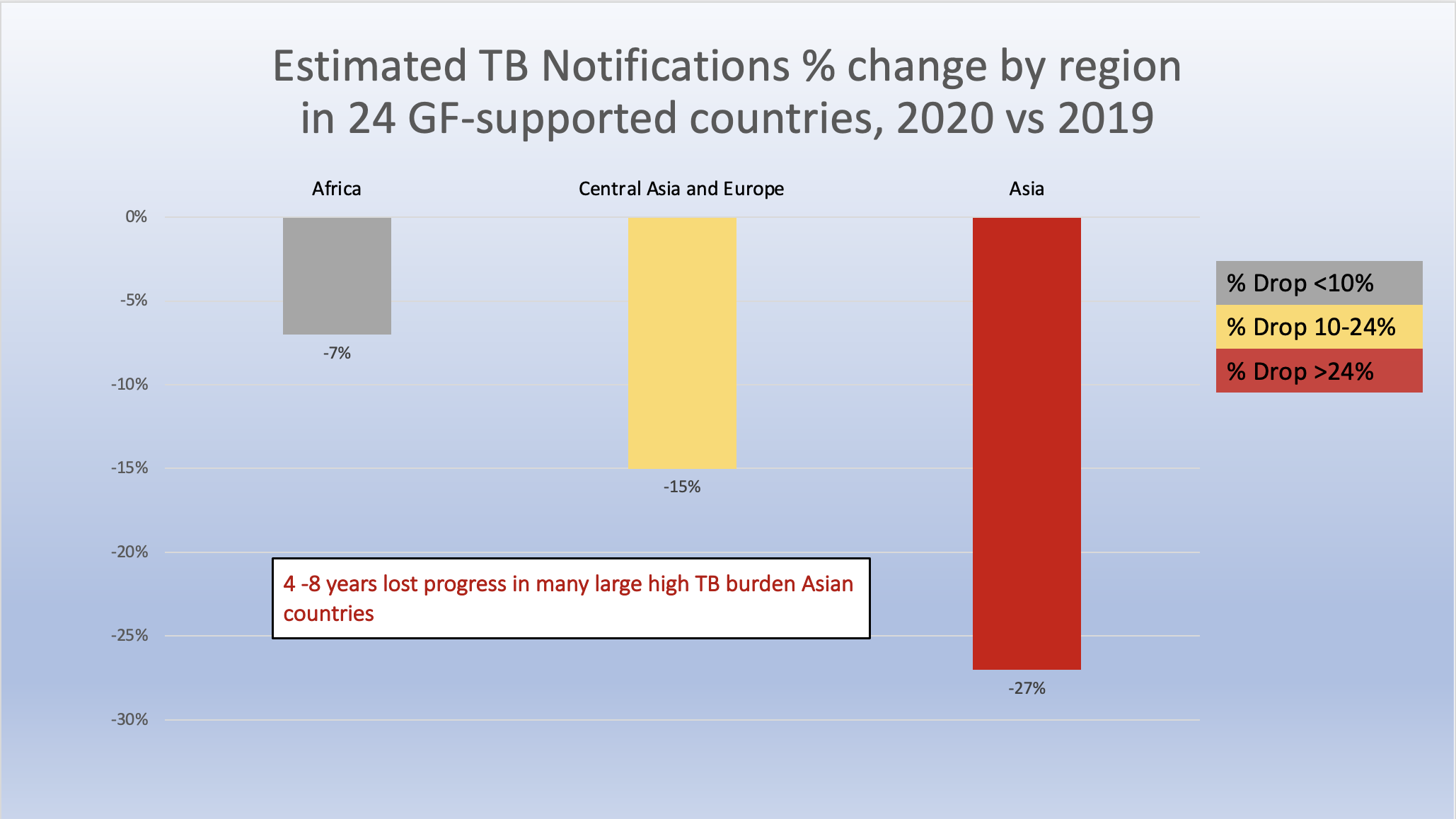 Chart provided by USAID. See slide deck for more.
---
Featured Articles
11/29/21: Victories Against AIDS Have Lessons for COVID-19 (Nature)
"Medical advances mean that HIV/AIDS could, theoretically, now be taken off the table as a major health threat (in the United States and globally), particularly if programmes such as the President's Emergency Plan for AIDS Relief and the Global Fund to Fight AIDS, Tuberculosis and Malaria continue to get robust support. Sadly, things are never that simple. Uptake of treatment remains suboptimal, in rich and poor communities. Reasons include lack of transport, substandard housing, mental-health issues, substance abuse, pill fatigue, drug toxicity, stigma and discrimination….A safe and effective HIV vaccine has been elusive so far, but even a moderately effective vaccine could, together with the rest of the toolkit, bring an end to AIDS as a major health concern. It's likely that one could build on some of the tools and platforms used for COVID-19 vaccines, including messenger RNA and optimizing immunogens to prompt the most effective immune response." READ MORE
11/11/21: Lifeline Support from UNDP and the Global Fund Keeps Afghanistan's Health Facilities Open (The Global Fund)
"The Global Fund and UNDP have been working together in Afghanistan since 2015 to support Afghanistan's response to HIV, TB and malaria and strengthen systems for health across the country. In 2020 alone, with the support of the Global Fund and UNDP, the Sehatmandi project has provided antiretroviral therapy to 1,094 people, treated 45,667 people for tuberculosis and distributed more than three million long-lasting insecticide nets to protect people from malaria. In July 2021, the Global Fund approved US$14.9 million to support Afghanistan's response to the COVID-19 pandemic, mitigate the impact of the pandemic on HIV, TB and malaria programs, provide critical tests, treatments and medical supplies, protect front-line health workers and strengthen systems for health." READ MORE
11/4/21: Our Past Pandemic Investments are Roadmaps to Defeating COVID Globally (The Hill)
"Through the capacities created by The President's Emergency Plan for AIDS Relief (PEPFAR) and the Global Fund to Fight AIDS, Tuberculosis and Malaria over the past two decades, vital investments have been made to enhance low-income country surveillance, monitoring and reporting systems as well as supply chains, laboratory networks and prevention and treatment services. These capacities are key to the ability of countries and communities to detect and respond to COVID-19 and new emerging pathogens and prevent their spread. Similarly, partnership with country leaders to prepare and expand the health workforce has been an invaluable anchor for progress." READ MORE
10/11/21: What the Malaria Vaccine Means for Africa (The New York Times)
"To save the most lives, countries must stay invested in scaling up teams of local health workers to respond to cases and increase access to the right set of tools such as mosquito nets and antimalarial drugs for preventing the disease. The new vaccine is an important proof of concept, and is paving the way for the next generation of potentially more effective malaria vaccines using a variety of technologies, like mRNA, which is used for some Covid-19 vaccines…. Covid-19 has taught the world that vaccine manufacturing in Africa must be expanded to end the current pandemic and prevent future ones." READ MORE
10/1/21: Is the Tuberculosis Response Another Casualty of COVID-19? (The Lancet)
"'The wholesale repurposing of resources to tackle the pandemic has left little room for ongoing efforts to control other infectious diseases—eg, HIV, malaria, and tuberculosis.' Progress against all these diseases is vitally important, but the tuberculosis community seems to struggle most to gain recognition in keeping with the scale of the damage done by this disease. Underpinning our concern at the time was a prediction by the Stop TB Partnership on the impact COVID-19 would have on tuberculosis in high-burden countries. They forecast that the disruption caused by the COVID-19 response would inevitably lead to an increase in morbidity and mortality in these settings, which they predicted would not return to pre-pandemic levels until at least 2025." READ MORE
9/20/21: HIV Is Africa's Latest COVID-19 Problem (Bloomberg)
"Africa is the world's least vaccinated continent and it has also been the origin of a number of coronavirus variants. Now, scientists say they have found a possible reason. Africa is also home to the most immunocompromised people…. Throughout the continent the burden of disease is higher than in countries in most parts of the world. The longer Covid-19 persists in its host, the longer it sheds, or reproduces, and that's when it mutates. 'There is good evidence that prolonged infection in immunocompromised individuals is one mechanism for the emergence' of Covid-19 variants, de Oliveira said. That's the strongest argument yet to step up Covid-19 inoculation rates in a continent where just a tiny fraction of the 1.2 billion population is fully vaccinated. A higher vaccination rate could cut the spread of the disease and, in most cases, mean that infections weren't as severe or as lengthy. That would limit the chance of new mutations forming." READ MORE
9/9/21: Not the Shot in the Arm the World Expected: The Pandemic's Collateral Victims (Politico)
"Even after the pandemic is over — and we're far from that — the ripple effects of Covid-19 will continue for years to come. Because of the virus' disruptions, fewer people across the globe got tested for tuberculosis, HIV and malaria over the past year, a new report by the Global Fund to Fight AIDS, Tuberculosis and Malaria shows….Fear and stigma hold patients back: Many health care facilities treating tuberculosis switched to providing care for Covid-19, and many people failed to get tested fearing they would catch the coronavirus, Erlina Burham, a pulmonologist who specializes in TB and heads the Covid-19 team at the Persahabatan National Lung Hospital in Jakarta, told Global Pulse." READ MORE
9/8/21: The Pandemic Has Set Back the Fight Against H.I.V., TB and Malaria (The New York Times)
"Before the arrival of the coronavirus, TB was the biggest infectious-disease killer worldwide, claiming more than one million lives each year. The pandemic has exacerbated the damage. In 2020, about one million fewer people were tested and treated for TB, compared with 2019 — a drop of about 18 percent, according to the new report…. There were a few glimmers of hope amid the bleak news: The crisis forced health agencies and ministries in many poor countries to adopt innovations that may outlast the pandemic. Among them: dispensing to patients multi-month supplies of TB and H.I.V. drugs, as well as condoms, lubricants and needles; using digital tools to monitor TB treatment; and testing simultaneously for H.I.V., TB and Covid-19. For example, in Nigeria, community health workers who tested people for Covid also looked for cases of H.I.V. and TB. As a result, the country became one of the few to see a rise in H.I.V. diagnoses compared with 2019." READ MORE
9/7/21: COVID-19 Disruption Causing Many Deaths from TB, AIDS in Poorest Countries, Fund Says (Reuters)
"Hundreds of thousands of people will die of TB left untreated because of disruption to healthcare systems in poor countries caused by the COVID-19 pandemic, a global aid fund said. In a few of the world's poorest countries, excess deaths from AIDS and tuberculosis (TB) could even exceed those from the coronavirus itself, said the head of the Geneva-based aid body, known as the Global Fund. The Fund's annual report for 2020, released on Wednesday, showed that the number of people treated for drug-resistant tuberculosis in countries where it operates fell by 19%. A decline of 11% was reported in HIV prevention programs and services. 'Essentially, about a million people less were treated for TB in 2020 than in 2019 and I'm afraid that will inevitably mean that hundreds of thousands of people will die,' Executive Director Peter Sands told Reuters." READ MORE
---
Latest News
11/29/21: Victories Against AIDS Have Lessons for COVID-19 (Nature)
"Medical advances mean that HIV/AIDS could, theoretically, now be taken off the table as a major health threat (in the United States and globally), particularly if programmes such as the President's Emergency Plan for AIDS Relief and the Global Fund to Fight AIDS, Tuberculosis and Malaria continue to get robust support. Sadly, things are never that simple. Uptake of treatment remains suboptimal, in rich and poor communities. Reasons include lack of transport, substandard housing, mental-health issues, substance abuse, pill fatigue, drug toxicity, stigma and discrimination….A safe and effective HIV vaccine has been elusive so far, but even a moderately effective vaccine could, together with the rest of the toolkit, bring an end to AIDS as a major health concern. It's likely that one could build on some of the tools and platforms used for COVID-19 vaccines, including messenger RNA and optimizing immunogens to prompt the most effective immune response." READ MORE
11/27/21: Pascale Ondoa: Strengthening Laboratory Medicine in Africa (The Lancet)
"These barriers persist and COVID-19 has brought new challenges, with a switch of focus in Africa beyond HIV, tuberculosis, and other disease areas. 'Many PCR laboratories have been repurposed to COVID-19 testing, but we have to be cautious, as HIV and TB remain the dominant drivers of chronic poor health in many African settings', she warns. Ondoa directs ASLM's collaboration with the Africa Centres for Disease Control and Prevention (Africa CDC) for the Africa Pathogen Genomics Initiative, funded by the Bill & Melinda Gates Foundation. 'The aim is to build a network of labs that can generate genomic intelligence such as circulation of SARS-CoV-2 variants of concern to inform public health action', she explains. And Ondoa believes that insufficient COVID-19 vaccine availability in Africa highlights the continent's wider problem. 'We do not have sufficient access to medical products, which ultimately prevents us from providing comprehensive diagnostic services for all, something that has to change', she says." READ MORE
11/23/21: A Tale of Two Pandemics: The True Cost of COVID in the Global South (The Guardian)
"Public-health experts predict that, as an indirect consequence of the Covid pandemic, twice as many people around the world could be at risk of dying from malaria. There could be 400,000 extra deaths from TB in the next few years, and half a million extra deaths from HIV. Across much of the world, in short, the response to the coronavirus has ushered in a shadow pandemic. The coronavirus's real death toll, then, has to be calculated not just in deaths from Covid, but also in deaths that would otherwise have been prevented, from malaria, TB, HIV, diabetes and more. This shadow pandemic isn't simply a story about disease – it's about poverty, hunger, truncated education and stunted lives. A suggestive comparison can be made with the climate crisis. In the affluent world, some people think of climate breakdown as a matter of how long the air conditioning stays on, but for many in the developing world, it's already a matter of floods, droughts and famine." READ MORE
11/22/21: Research Suggests Malaria Exposure Could Reduce COVID-19 Severity (Devex)
"New research from Uganda and Mali suggests malaria exposure might lower the incidence of severe disease, hospitalization, and death for people exposed to SARS-CoV-2, the virus that causes COVID-19. The research findings, presented at the American Society of Tropical Medicine and Hygiene's annual meeting last week, found low levels of severe COVID-19 symptoms among people exposed to SARS-CoV-2 in areas with high malaria burdens, leading researchers to hypothesize that previous malaria exposure could offer its survivors a shield against COVID-19…. 'We went into this project thinking we would see a higher rate of negative outcomes in people with a history of malaria infections because that's what was seen in patients co-infected with malaria and Ebola,' wrote Achan in a press release. 'We were actually quite surprised to see the opposite — that malaria may have a protective effect.'" READ MORE
11/18/21: Experts Urge Action on Antimicrobial Resistance (The New Times)
"'Some people call Antimicrobial Resistance (AMR) a silent pandemic. I call it an active volcano that is ongoing. Antimicrobial resistance is a natural phenomenon as bacteria, viruses, fungi and parasites try to change overtime and stop responding to antimicrobials (drugs that are used against disease-causing bacteria, viruses, fungi and parasites,' he said. He also noted that more people around the world have in recent times used antibiotics due to Covid-19, increasing the risk of abuse…. The AMR is making diseases like TB, HIV/Aids and malaria more difficult to treat or even incurable, experts say, citing the example of drug resistant malaria in Rwanda."
READ MORE
11/18/21: HIV Services Are Bouncing Back From COVID-19 Disruptions, Data Suggest, but Recovery Is 'Precarious' (Medscape)
"Over the past 2 years, the COVID-19 pandemic has caused numerous disruptions in healthcare, including in global HIV/AIDS services. But new data presented at the Association of Nurses in AIDS Care (ANAC) 2021 Annual Meeting suggest that practitioners quickly adapted to challenges posed by the pandemic, and care and prevention services around the world have begun to return to pre-pandemic levels…. Although there was concern that the pandemic could disrupt access to antiretrovirals, the Global Fund previously reported a nearly 9% increase in people receiving antiretroviral therapy (ART) from 2019 to 2020. HIV prevention and testing did take a hit: There was a 22% decrease in testing for HIV and an 11% decline in the number of people receiving HIV prevention services over that period." READ MORE
11/17/21: Stop TB head: TB Still the 'Cinderella' in Global Fund Disease Split (Devex)
"Tuberculosis is getting an additional allocation from the Global Fund to Fight AIDS, Tuberculosis and Malaria, but the head of the Stop TB Partnership says the amount is still "disproportionately less" than the funding for HIV and malaria. 'With more than 4 million people with TB missing care in 2020, a financial gap of USD 6 billion for TB interventions, and being the hardest hit by the COVID-19 pandemic, it is impossible for me to understand why the TB response remains the 'Cinderella' of the Global Fund resource allocation for the foreseeable future,' Lucica Ditiu, executive director of the Stop TB Partnership, told Devex in an email. Next to COVID-19, TB is currently the second infectious disease killer, and for every person not diagnosed and treated for TB, 15 others will become infected with the disease yearly, she added." READ MORE
11/14/21: ECOWAS Moves to Establish COVID-19, Malaria Vaccines Manufacturing Plants (The Guardian Nigeria)
"Arrangements are in top gear to establish a manufacturing plant for malaria and COVID-19 vaccines in Nigeria, Ghana and Senegal. Meanwhile, President Muhammadu Buhari has said the vaccine rate in Africa is well below global average, due to inequity in distribution and called on ECOWAS member countries to work towards self-sufficiency in manufacturing pharmaceuticals and vaccines. Speaking at the ECOWAS Health Ministers' conference, which ended yesterday in Abuja, Buhari urged ECOWAS member countries to work in solidarity and with a sense of purpose in their resolve to manage all phases of COVID-19 evolution. He said Africa must join in the research and development of new products, especially in genomic sequencing and also prepare both nationally and regionally for any eventual future pandemic or public health emergency that could occur." READ MORE
11/12/21: Family Focus Shows Promise for TB Prevention (Spotlight)
"'Due to COVID-19 we modified our post-exposure management and the modification included home visits and screening kids in their households. During home or clinic visits the basic assessment included clinical assessment and TB symptom screening for all and chest X-ray and Xpert MTB/RIF testing at the discretion of the clinician if there was a presumption of TB disease….Through this model and the post-exposure management protocol, there has been a drastic increase in case detection. The rate of co-prevalent TB detection via the post-exposure management programme was higher than that reported in the existing literature. Many pediatric cases go undetected in this population and Covid-19 has further exacerbated gaps in the cascade of care,' she said, adding that not all children and adolescents' contacts diagnosed with co-prevalent TB disease had symptoms of TB highlighting the poor sensitivity of the existing screening tools and the need for robust clinical evaluation." READ MORE
11/11/21: Mira Bhayandar: MBMC Plans Door-to-Door Survey to Detect Cases of Tuberculosis (Free Press Journal)
"The health department of the Mira Bhayandar Municipal Corporation (MBMC) has geared up to conduct a fresh survey to detect patients with communicable diseases like tuberculosis (TB) across the twin-city. In case of diagnosis, free medical treatment will be provided by the health department. The detection of fresh tuberculosis patients had witnessed a significant drop during the lockdown period which was imposed to contain the spread of the deadly Covid-19 pandemic, thus necessitating the urgent need of intensified and targeted surveys to detect and diagnose patients of communicable diseases and swift treatment. The union health ministry aims to make the country TB free by the year 2025." READ MORE
11/10/21: Global Fund Board Approves New Strategy Placing People and Communities at Center to Lead Fight Against HIV, TB, Malaria, to Build Systems for Health, Equity and Strengthen Pandemic Preparedness (The Global Fund)
"Pandemic preparedness is fundamentally a subset of resilient systems for health," said Peter Sands, Executive Director of the Global Fund. "And through our swift and rigorous COVID-19 Response Mechanism, we have already demonstrated our capacity to be a highly effective contributor to pandemic response.' In a broad update to the Board, Sands stressed the devastating knock-on impact of COVID-19 on HIV, TB and malaria, with the socio-economic consequences of the pandemic weighing heavily on the poor and the marginalized. 'These scars will take many years to heal,' said Sands. 'As a global community, we could and should be acting much more decisively and swiftly to save lives and bring this pandemic to an end. We have the tools — personal protective equipment, tests, treatments and vaccines — but we must move more rapidly to make them accessible and to deploy them effectively.'" READ MORE
11/10/21: Gearing Towards a TB Free Nigeria- WHO and Partners Scale Up Action (Africa News)
"The World Health Organization (WHO) has reaffirmed its commitment to support the country in eradicating Tuberculosis (TB), one of the top infectious killer diseases in the world…. Although Nigeria recorded a gain in its fight against TB in 2020, Nigeria ranks sixth among 30 TB High Burden countries in the world and has the highest burden in Africa. As such necessitates a continuous strategic intervention by the federal government, the WHO, and partners to reduce the burden of the disease in the country by 2030. In the quest to reduce the burden of the disease in Nigeria, Mr Chimbaru said 'WHO has supported the government to develop guidelines, Standard Operating Procedures, adopt new strategies, regimen, and interventions in addition to building capacities and enhancing data analysis and use for optimizing performance.'" READ MORE
11/9/21: The World Wasn't Prepared for This Pandemic. Bill Gates Says We Can Do Better (TIME)
"The COVID-19 pandemic has cost the global economy trillions of dollars. If the international community invested even a fraction of that money into things like disease surveillance, vaccine manufacturing and better medications, it would slash the chances of another, similar pandemic, philanthropist Bill Gates argued in a conversation with TIME. 'We lost trillions of dollars because we weren't prepared [for this pandemic]. For tens of billions of dollars … you can invest [in things like surveillance, vaccines and therapeutics] and make the chance of this happening again extremely low. It's an incredible bargain that will protect rich people from pandemics, but also allow us in global health—where the inequities are so dramatic, still to this day, despite the progress we've made—to have tools for things like malaria eradication, TB, HIV.'" READ MORE
11/8/21: Maharashtra's Tuberculosis, COVID-19 Coinfection 0.5&: Report (The Times of India)
"Despite screening every newly diagnosed tuberculosis (TB) patient for Covid, the TB-Covid coinfection rate has remained under 1% in Maharashtra…. The coinfection rate is very low compared to Covid infection rate among the general population, which at a minimum is up to 3%. Experts have, however, stressed on extensive studies to gauge TB patients' exact vulnerability by expanding the Covid diagnosis. Currently, Tb patients are screened compulsorily for Covid, but only once. Despite TB being a chronic disease, the status of Covid infection is not captured periodically unless the patient exhibits worsening symptoms, experts have underlined. 'When TB is a chronic disease, screening a patient only once would only lead to a misleading picture. A TB patient should be evaluated for Covid also during TB treatment when s/he shows symptoms.'" READ MORE
11/5/21: Impact Of Covid-19 Pandemic Extends To Tuberculosis And Neglected Tropical Diseases (Forbes)
"Last month, the WHO reported that for the first time in 15 years the number of people who have died from tuberculosis has increased…. And, while tuberculosis has also suffered from neglect, it belongs to the so-called "big three infectious diseases" – HIV/AIDS, tuberculosis,and malaria – which have generally received more media attention and research and development funding than the NTDs. The WHO had developed an NTD roadmap that was meant to officially launch in June 2020. The roadmap included specific disease targets to control and eliminate NTDs by 2030. Not only did the Covid-19 pandemic postpone the launch of the work plan, many NTD activities that had been ongoing were suspended to prevent the risk of additional transmission of the coronavirus. In fact, interruptions in NTD program work were experienced in at least 44% of low and middle income countries." READ MORE
11/4/21: The Seven Steps South Africa is Taking to Get it Closer to Eliminating Malaria (The Conversation)
"There were dire warnings that malaria cases would surge across Africa after the World Health Organisation (WHO) declared the COVID-19 outbreak as a global pandemic in early March 2020. Many felt that the already overburdened healthcare systems would not be able to cope with increased patient loads. There was also concern that the pandemic would disrupt the delivery of essential malaria services. Fortunately, these predictions have not fully materialised. Most malaria control programmes on the continent took action to keep delivering essential malaria services. The South African malaria control programme, for one, found ways to keep its efforts at stopping transmission on track despite the threat from COVID-19. For example, it set up systems to screen and test for COVID-19 and malaria in malaria-risk areas. It also modified the training for indoor residual spraying to comply with COVID-19 regulations." READ MORE
11/3/21: COVID-19 Pandemic Could Lead to HIV Surge in West & Central Africa, Says UNAIDS Chief (Reuters)
"West and Central Africa could see a rise in HIV infections and AIDS-related deaths in a few years due to disruptions in health services because of the coronavirus pandemic, the executive director of the U.N. AIDS agency said. Although human immunodeficiency virus (HIV) infection rates, and acquired immunodeficiency syndrome (AIDS)-related deaths have been on a steady decline over the past decade, the region accounted for 22% of AIDS-related deaths in 2020. Around 200,000 people in West & Central Africa became newly infected with HIV last year out of a global total of 1.5 million, the United Nations AIDS agency's (UNAIDS) data shows." READ MORE
11/3/21: Summit Concludes with a Call for Action to Reinvent the Response to the HIV Pandemic and End AIDS in Western and Central Africa
"A three-day regional summit on HIV/AIDS held in Dakar, Senegal, has concluded with a call to action that urges stronger support for community-led responses, policies driven by science and data, increased investment in the HIV response and putting HIV at the centre of pandemic preparedness and response. In his closing remarks, the President of Senegal, Macky Sall, committed to advancing the call to action with the African Union and pledged additional funds to implement it in Senegal and across the region. Western and Central Africa is home to 4.7 million people living with HIV—12% of those living with HIV globally—but experiences 22% of all HIV deaths in the world." READ MORE
10/31/21: Five questions about the HIV response in the Gambia (UNAIDS)
"Similar to other western African countries, the Gambia has a low but highly concentrated HIV epidemic, affecting heavily key populations such as men who have sex with men and female sex workers. While impressive progress towards reducing new adult and paediatric infections have been observed in recent years, COVID-19 has caused a lot of complications. Repurposing HIV medical equipment and health personnel to address the fast-rising epidemic was necessary to limit COVID-19 related deaths. It also came with a cost—reducing the capacity to deliver HIV prevention and treatment services. Lessons must be learned from the dual HIV/COVID-19 epidemics. Effort must be invested in better prevention services, especially tailored to key populations. Health personnel must be better trained and better supported to manage their workload and prevent bottlenecks." READ MORE
10/31/21: Building Political Action: Role of Policymakers to Address Tuberculosis (The Economic Times: Healthworld)
"The disease of tuberculosis is widespread and impacts millions of individuals across the world. India has the highest burden of tuberculosis, and it is the most infectious killer. In 2020, as per the data provided by the Union Health Ministry in Lok Sabha, India reported 1.8 million TB cases. The issues of TB has only been made more challenging with the COVID-19 pandemic and subsequent lockdowns, as there was a negative impact on detection of cases, diagnosis and treatment….To ensure a holistic response, along with developing and adapting policies to real-time changes, we must introduce inclusive and person-centered, stigma-free, need-based psychosocial interventions along with clinical interventions to reach all parts of the society especially for those who need it the most." READ MORE

10/28/21: COVID-19: Africa Looks to Kickstart Vaccine Production (Frontline)
"According to BioNTech, a memorandum of understanding has been signed with the Rwandan government and the Institut Pasteur de Dakar in Senegal. "We will work together to build a regional production network to support access to African-produced vaccines for Africa," BioNTech co-founder Ugur Sahin announced on October 26. A production line with the capacity to produce 50 million COVID vaccine doses per year is currently in the works. The goal, Sahin said, is to develop vaccines with African Union member states and secure sustainable vaccine production capacities which will also improve overall medical care in Africa. That could mean vaccines against other diseases such as malaria, could also be produced. Following Moderna's announcement a week earlier, John Nkengasong, director of the African Centers for Disease Control and Prevention (CDC), welcomed the news, saying that less than 5 per cent of Africans are fully vaccinated against COVID-19." READ MORE
10/28/21: The Next Big One: Drug-Resistant Airborne Tuberculosis (Forbes)
"Specifically, multidrug-resistant tuberculosis remains a public health crisis and a health security threat. Only about one in three people with drug-resistant tuberculosis accessed treatment in 2020 and from 2018 to 2019, the rate of drug-resistant tuberculosis infections increased by approximately 10%. We need to seriously reevaluate the way we diagnose and screen for tuberculosis. The Covid pandemic disrupted access to health care and supply chains around the globe. Lockdowns often prevented people from accessing care and in many countries, human, financial, and other resources were diverted from tuberculosis to the Covid-19 response. As a result, 5.8 million people were diagnosed with tuberculosis in 2020, yet a WHO report estimates that about 10 million people were infected and more than 1.5 million died from tuberculosis, the first increase in a decade." READ MORE
10/28/21: Malaria: An Interview with the World Health Organization (News Medical)
"We are actually very grateful to all the countries in Africa for preventing a catastrophe that we thought would happen with COVID-19. Yes, COVID-19 negatively impacted the delivery of routine health services, especially the first six months. After that, countries adapted, countries took precautions, and countries reopened the delivery of routine health services, including malaria interventions. We were able to support countries in doing this…. Health workers delivered especially in vector control interventions like nets, even during the COVID-19 pandemic. It was an extraordinary achievement, and we congratulate everybody for that in all malaria-endemic communities, districts, and nations." READ MORE
10/27/21: WHO Meet: SE Asia Health Ministers Seek to End TB (Economic Times)
"The health ministers of countries in WHO South-East Asia Region on Tuesday said they are committed to renew and accelerate efforts to end tuberculosis, in view of the pandemic disrupting services and leading to an increase in TB cases in the already high-burden region. The ministers agreed to increase budgetary and human resource allocations including upfront investments required to catch up on lost ground during the Covid-19 pandemic. An estimated $3 billion may be needed annually to implement a comprehensive set of interventions to end TB in the region." READ MORE
10/27/21: Reinvigorate Efforts to End Tuberculosis in SE Asia and Beyond (Phnom Pehn Post)
"The year 2020 marked a watershed in global efforts to end tuberculosis by 2030. First, because by 2020 TB-affected countries aimed to achieve the first set of End TB milestones – a 35 per cent reduction in TB deaths, a 20 per cent reduction in TB incidence, and zero catastrophic costs for TB-affected families. And second, because throughout 2020 and into 2021, the direct and indirect impacts of the Covid-19 pandemic challenged health systems and TB programmes like never before…. The social and economic impact of the pandemic has been immense. Tens of millions of people have been pushed into extreme poverty. Undernutrition – a key driver of TB morbidity and mortality – has been greatly exacerbated. WHO modelling suggests that these and other gaps could result in a level of global mortality last seen in 2012, leading to an additional 1.4 million TB deaths by 2025." READ MORE
10/25/21: The Quest to End the COVID-19 and HIV Pandemics (UNAIDS)
"Today, we are witnessing COVID-19's collision with a 40-year-old HIV pandemic that has claimed 37 million lives globally. At the same time, most of the developing world is still grappling with recurring and emerging disease outbreaks that have disrupted lives and left long-lasting scars. In some regions these health emergencies have become endemic, driven by interlinked vulnerabilities, disparities and inequalities. From 24 to 26 October, nearly two years into the COVID-19 pandemic, global health leaders across sectors will gather in Berlin, Germany, for the World Health Summit. How do we leverage this moment? What lessons can we draw from responding to COVID-19, HIV, malaria, tuberculosis, Ebola and other health emergencies? And how can we enhance systems for health around the world and build a global health architecture that serves us all, leaving no one behind?" READ MORE
10/25/21: This Partnership is Saving Millions of Lives Through Tackling AIDS, TB Malaria & COVID-19. But How? (Global Citizen)
"'The Global Fund fights injustice which fuels infectious diseases,' the Global Fund's Executive Director, Peter Sands, told Global Citizen. 'We are the biggest organization fighting the deadliest infectious diseases – HIV, tuberculosis (TB), and malaria, and now COVID-19 – at scale, worldwide. We should protect everyone, everywhere, from the deadliest infectious diseases, those we face today, and those we will inevitably face tomorrow,' added Sands. Pre-pandemic, fighting infectious disease was already a significant challenge, but since 2004, deaths from infectious diseases have dropped by half. Today, the pandemic has almost stalled the life-saving programs, disrupting the delivery of health services and threatening to reverse this hard-won progress. A rapid and decisive COVID-19 response by the Global Fund partnership is working hard to meet these shortfalls, leveraging global partnerships to protect health workers and ensure communities are prepared for this pandemic and the next." READ MORE
10/22/21: TB Deaths on a Seven-year High as Case Notifications and Outpatient Visits Dipped in 2020 (The Hindu)
"As many as 1.3 million fewer cases of tuberculosis were detected in 2020 compared to 2019, according to the WHO. The drop in cases can be attributed to the COVID-19 pandemic as there was reduced access to disease diagnosis and treatment as well as curtailed spending since the infection outbreak. This reversed the gains made over the past few years in detection of TB cases. Following a drop in detection of new cases, deaths attributed to TB rose for the first time in the last 16 years in the world. The estimated TB deaths in India were the highest in seven years in 2020. Visits for treatment also fell sharply. Worryingly, among high-burden nations, India spent the least on TB drugs per patient despite accounting for an estimated 28% of the new cases last year." READ MORE
10/19/21: Tuberculosis, Like COVID, Spreads by Breathing, Scientists Report (New York Times)
"As the Covid pandemic disrupted access to health care and supply chains around the globe, 5.8 million people were diagnosed with TB in 2020. But the W.H.O. estimates that about 10 million people were infected. Many may unwittingly be spreading the disease to others. 'Our model would suggest that, actually, aerosol generation and TB generation can happen independent of symptoms,' said Ryan Dinkele, a graduate student at the University of Cape Town who presented the results. The finding helps explain why tightly packed indoor spaces, like prisons, often are breeding grounds for TB, as they are for Covid. And the research suggests that some of the methods used to limit coronavirus transmission — masks, open windows or doors, and being outdoors as much as possible — are important in curtailing TB." READ MORE
10/19/21: Battle to Maintain Services (Global Times)
"'Although COVID-19 brought some disruptions to HIV services, particularly in testing and prevention, the global HIV response again demonstrated its resilience,' she said. Even as COVID-19 strained health services and made access more difficult, the Global Fund said it recorded a 8.8 percent year-on-year increase in 2020, to 21.9 million, in the number of people receiving HIV treatment in the nations where it grants resources. An estimated 37.7 million people are living with HIV worldwide, some 84 percent of whom have been diagnosed. Some 27.5 million people are receiving the antiretroviral treatment that can increase the lifespan of someone with HIV to near normal. In South Africa, where approximately 19 percent of people aged 15 to 49 have HIV, healthcare workers said efforts to piggyback off existing innovations, such as the minibus clinic, have helped them tackle obstacles caused by COVID-19." READ MORE
10/19/21: TB Progress 'Unravelling' Due to COVID-19, WHO Warns (SciDevNet)
"Urgent measures are needed to improve access to tuberculosis care, health experts have warned after a global report found that COVID-19 has wiped out years of progress in tackling the curable disease. Deaths from TB have increased globally for the first time in more than a decade according to the World Health Organization's Global Tuberculosis Report 2021, rising to 1.5 million in 2020 from 1.4 million in 2019. Mel Spigelman, president and chief executive officer of the TB Alliance, said it was time for countries to honour their pledges on TB. 'We have seen a number of highly promising breakthroughs in tuberculosis drug development over the past few years, but the promise of new treatments must be accompanied by equitable and universal access,' he said." READ MORE
10/15/21: Using Malaria Resources to Strengthen Health Systems in Burkina Faso (Devex)
"If malaria can be tackled and funds shifted elsewhere, it could help fill in existing gaps for HIV and tuberculosis, and contribute to building an adequate health workforce, said The Global Fund's Pedrosa. 'Resilient and sustainable systems for health are necessary for accelerating progress toward universal health coverage, and they help countries fight new pandemics like COVID-19 and prepare for emerging threats to global health security,' she said. The approval of this latest vaccine could reduce the number of severe malaria cases by a third, said Tinto, freeing up resources for other areas. For example, once malaria is dealt with, money should go to helping researchers develop simple, affordable point of care tests, for a range of other conditions and diseases such as dengue fever, said Tinto. 'We have limited resources and we have to choose some priorities,' he said. 'Malaria hides all other problems for the time being.'" READ MORE
10/14/21: Tuberculosis Deaths Rise for the First Time in More than a Decade Due to the COVID-19 Pandemic (WHO)
"The COVID-19 pandemic has reversed years of global progress in tackling tuberculosis and for the first time in over a decade, TB deaths have increased, according to the World Health Organization's 2021 Global TB report. In 2020, more people died from TB, with far fewer people being diagnosed and treated or provided with TB preventive treatment compared with 2019, and overall spending on essential TB services falling. The first challenge is disruption in access to TB services and a reduction in resources. In many countries, human, financial and other resources have been reallocated from tackling TB to the COVID-19 response, limiting the availability of essential services. The second is that people have struggled to seek care in the context of lockdowns." READ MORE
10/14/21: Tuberculosis Deaths are Rising Again as Covid Pandemic Unravels Years of Progress (Forbes)
"Global deaths from tuberculosis increased for the first time in over a decade in 2020 as Covid-19 interrupted care and as limited funds and resources were diverted to fight the pandemic, according to a World Health Organization report published Thursday, underscoring the devastating knock-on impact the pandemic is having on our health and the fight against other deadly diseases…. Tedros said the 'report confirms our fears that the disruption of essential health services due to the pandemic could start to unravel years of progress against tuberculosis.' It's not just progress fighting TB that experts fear will be erased by the pandemic and many of the disruptions to services disproportionately affect those living in poorer nations with less developed healthcare systems." READ MORE
10/14/21: Has COVID-19 Protocol Led to Fall in TB Cases in TN? (The New India Express)
"Has Covid-19 appropriate behaviour like wearing face masks and observing social distancing also helped bring down Tuberculosis (TB) cases in the State? Data hints so. The State notified 1,10,841 new TB cases in 2019, 70,546 in 2020 and 61,023 in 2021 (till October 10), shows data from the State Tuberculosis Control Department. While a few doctors term it a 'blessing in disguise', health experts want scientific proof that such behavior indeed helped restrict transmission of TB, a chronic respiratory disease that affects the lungs. This, they said, might take time, at least another year." READ MORE
10/14/21: COVID-19's Toll on Papua New Guinea (The Strategist)
"Community transmission since March has devastated urban centres and rural villages. Packed hospitals were forced to suspend other critical health services. By May, one in three tests proving positive at Port Moresby General Hospital indicated drastic rates of community infection. Since then, the highly contagious Delta variant has spread to all areas including the remote Western Province, where the two main hospitals are now full of Covid patients. In Port Moresby, the general hospital's Covid quarantine facility is at capacity. PNG's health system was unprepared. It was already stretched thin and struggling with serious issues with staffing, supplies, infrastructure and community health education. PNG's maternal, child and infant mortality rates are among the highest in the region, and diseases like malaria, tuberculosis and HIV remain prevalent." READ MORE
10/14/21: 'Malaria Vaccine Still Has Many Hurdles to Cross' (The Guardian Nigeria)
"James Tibenderana, a Ugandan epidemiologist at the Malaria Consortium in London, said the RTS,S vaccine could be impactful in some regions. To achieve that, Tibenderana stressed the need for extensive communication campaigns, so that misinformation doesn't hamper the rollout. 'People will wonder why a 30-year-old, partially effective vaccine is suddenly being introduced during a pandemic — and targeted only at Africans,' he said. 'The misinformation around COVID-19 vaccines should teach us that we can't take community trust for granted.' Despite the long road ahead, he and others are grateful for the WHO's decision. 'With the devastation of COVID-19, and with progress stalled on malaria control, and news of resistance to anti-malaria drugs, it's uplifting to see some positive news,' he said." READ MORE
10/9/21: Chris Selley: Malaria and COVID-19 Vaccine Miracles Shouldn't be in Competition (National Post)
"Superb news out of Geneva this week offers a particularly stark perspective on the relative risks children face: the World Health Organization has approved the first vaccine against Plasmodium falciparum, which is the nastiest of the known malaria parasites. The vaccine is 'only' about 50 per cent effective. Gavi, the public/private alliance that decides which vaccines are worth investing in for developing countries, will still have to sign off. 'COVID is a big unknown in the room in terms of where capacity is currently in countries, and rolling out COVID-19 vaccines is a huge effort,' Deepali Patel, Gavi's head of malaria vaccination programs, told the New York Times. 'We're really going to have to see how the pandemic unfolds next year in terms of when countries will be ready to pick up all of these other priorities.'" READ MORE
10/8/21: Global Fund Crosses US$4 billion Mark in Funding to Support Countries in the Fight Against COVID-19 (The Global Fund)
"'The Global Fund's ability to act swiftly and at scale to support countries' COVID-19 responses reflects the power and the agility of the Global Fund partnership. We have been supporting countries to meet the new challenges posed by the pandemic in 2021, including surges in infections and deaths driven by the Delta variant, acute oxygen shortages and the need to support vaccine rollout through strengthening systems for health,' said Peter Sands, Executive Director of the Global Fund. 'Our recent Results Report demonstrated how badly COVID-19 has impacted HIV, TB and malaria programs. Yet, without the rapid and determined actions that took place across the Global Fund partnership to mitigate the impact of COVID-19 on the three diseases, it would have been much worse.'" READ MORE
10/8/21: 'A Historic Moment': Why a Malaria Vaccine in Africa Will Reignite the Fight Against Disease (CNBC)
"Sutherland also said the long-term prospects of future malaria vaccines deploying the same RNA-based technology present in the Pfizer-BioNTech and Moderna Covid-19 vaccines are 'excellent,' and have opened up a 'very exciting pathway' in vaccine research. 'Pharma needs strong partnerships and incentivization to work in tropical disease drug and vaccine development. In fact, malaria vaccine success (and indeed Covid vaccine success) has not come just from private enterprise working alone, but from a complex ecosystem of co-operation and innovative funding mechanisms involving academia, pharma, international charities and substantial amounts of direct government funding (from the UK, EU, USA and other countries),' he highlighted. 'Therefore it is imperative that government funding is maintained, particularly in global health where profits are low.'" READ MORE
10/8/21: Next Africa: A Victory Against a Forgotten Disease (Bloomberg)
"The malaria vaccine developed by GlaxoSmithKline and its partners isn't the most effective, preventing only four out of 10 cases among children. Still, it's the first major advance in the struggle to curb a disease that saps productivity across a continent, much of which is hot and humid and therefore prone to malaria. 'For centuries, malaria has stalked sub-Saharan Africa, causing immense personal suffering,' said Matshidiso Moeti, WHO's regional director for Africa. The Covid-19 pandemic has set back Africa's struggles against many of the endemic diseases that plague the continent. In southern Africa, people with HIV and tuberculosis have at times been unable to access treatment and medication. Further north, immunization programs against a host of childhood diseases have been interrupted. As Moeti put it, there is now 'a glimmer of hope.'" READ MORE
10/7/21: Malaria, Known to Humans for Millennia, Finally has a Vaccine. Here's Why it Was so Hard to Develop (Salon)
"Given how long humans have been studying malaria, it is reasonable to ask why has it been so difficult to develop a vaccine for malaria — and why, in contrast, the vaccine for SARS-CoV-2 was developed at such a fast pace. Part of the answer lies in the nature of the diseases. Malaria is a parasite, not a virus like SARS-CoV-2, or influenza…. 'There were 135 [COVID-19] vaccine candidates, in the entire history of malaria vaccine research there's maybe been five or so, or maybe 10, but there hasn't been that same kind of investment,' Wirth said. 'Would it have been successful? Hard to say, but certainly trying everything that you can imagine, all at once, did have an accelerating effect on the field.'… Wirth said she hopes the success of these vaccines will guide the scientific community into a new era of vaccine development. 'I hope it will unleash what will be a renaissance of thinking,' Wirth said." READ MORE
10/7/21: African Scientists' Historic Malaria Breakthrough Celebrated by Peers (CNN)
"Dr. Akpaka Kalu, WHO Regional Advisor for Tropical and Vector-borne Disease, said positive results from ongoing pilot programs of malaria vaccinations in three African countries — Ghana, Malawi and Kenya — had led the organization to recommend widespread use of RTS,S/AS0 or Mosquirix among children in sub-Saharan Africa…. Kalu said there are ongoing discussions to transfer vaccine manufacturing technology to Africa as facilities on the continent build out local infrastructure to produce Covid-19 vaccines. 'We hope that the same technology used for Covid vaccines will be used to manufacture malaria vaccines and other vaccines in the future,' he said. 'This long-awaited vaccine, developed in Africa, by African scientists, is a breakthrough for science, child health, and malaria control,' WHO Director-General Tedros Adhanom Ghebreyesus said in a thread on his official Twitter account Wednesday." READ MORE
10/2/21: COVID-19 Derailed India's Healthcare System, Raising Risk of Other Diseases (The Siasat Times)
"The COVID-19 pandemic has created unprecedented stress on healthcare infrastructure in India, leaving other infectious diseases largely unattended and raising their risk of outbreaks, according to a White Paper by FICCI-Elsevier released on Saturday. Other than Covid, India has a high burden of infectious diseases such as tuberculosis, which kills nearly one person in the country every minute…. The paper revealed that the delay in detection, diagnosis and treatment may lead to nearly 20 per cent more deaths in adults due to tuberculosis during Covid. It noted that the pandemic reversed the achievements which were gained in past years in terms of the decrease in the number of cases of HIV and the decrease in children and adolescents who will access treatment. Models project 10 percent more deaths due to HIV over the next five years." READ MORE
10/1/21: 'Killing More than 4,000 People Per Day, TB Still Not A Priority' (Daily Observer)
"'Years of chronic neglect have led to an unbearable situation in which TB kills more than 4,000 people a day— more than HIV and malaria combined—and still, too few decision makers, donors and stakeholders care about TB,' said Dr. Lucica Ditiu, Executive Director of the Stop TB Partnership. 'It is not that we will see future consequences: we are in the middle of the disaster, and our attention seems to be in the very wrong place. Data from 2020 and 2021 will reveal soon how hundreds of thousands of additional people are dying from TB and how TB drug resistance and the TB epidemic itself are on the rise.'" READ MORE
9/30/21: For Africa, COVID-19's Economic Impact Will Be More Deadly Than the Virus (RANE)
"For African nations engaged in fiscal recovery, ongoing economic hardship will be more deadly than COVID-19. International actors have called for increased vaccination and containment efforts in Africa. But while made in good faith, such calls fail to realize that this will ultimately risk harming Africans' quality of life by further suppressing economic activity via lockdown measures, while diverting key resources away from other long-term development projects across the Continent. Investment in health initiatives to combat malaria, tuberculosis and HIV, the development of schools and educational facilities, and projects aimed at boosting employment and infrastructure all stand to suffer from a diversion of resources to the fight against COVID-19 — posing a severe threat to Africans' livelihoods for years to come." READ MORE
9/29/19: Head of UNAIDS Unpacks the Knock-on Effects of COVID-19. And What Needs to be Done (The Conversation)
"Hundreds of thousands are still dying of AIDS and 1.5 million people were newly infected last year. AIDS remains a crisis and COVID-19 is making it worse. Even before COVID-19, we were off track in meeting the global AIDS targets and the COVID-19 pandemic has pushed us back even further. COVID-19 related restrictions have hurt the most vulnerable, including marginalized and stigmatized communities and has disrupted access to HIV services…. Amid unprecedented global disruptions, we must act urgently to prevent a resurgent global AIDS pandemic and to quickly recover our progress toward ending AIDS. To get fully back on track on HIV we absolutely have to get on top of COVID-19." READ MORE
9/29/21: 2021 May be Worse for Tuberculosis (Devex)
"The world is off track in fulfilling the United Nations high-level meeting targets for tuberculosis, and the global TB response may see further setbacks in 2021 than in 2020. COVID-19 continues to have a significant impact on the TB response, and the Stop TB Partnership estimates at least 1.2 million fewer people may be diagnosed and treated for TB in 2021 compared to 2020, Stop TB Partnership Executive Director Lucica Ditiu said during a press briefing Tuesday. In 2020, there was already an estimate of 1.4 million fewer people diagnosed and treated for the disease than in 2019, she said." READ MORE
9/29/21: Deaths of Women and Children Show Wider Impact of Pandemic (Bloomberg)
"COVID-19 has hobbled health-care services and diverted resources from other important campaigns in many vulnerable nations over the past 18 months…. Global Fund to Fight AIDS, Tuberculosis and Malaria said earlier this month that COVID has pushed its efforts 'off track in significant ways.' About one million fewer people with tuberculosis were treated in 2020 compared with 2019, it estimated. When it comes to women and children, decreases in the use of essential health services between March 2020 and June 2021 led to almost 114,000 additional deaths in 18 countries, according to preliminary findings this month that haven't been peer reviewed. That's equivalent to more than two deaths for each reported COVID death, the analysis funded by the facility showed." READ MORE
9/28/21: Report: COVID-19, Lack of Funding are Hampering TB Response (UMN CIDRAP)
"'Years of chronic neglect have led to an unbearable situation in which TB kills more than 4,000 people a day— more than HIV and malaria combined—and still, too few decision makers, donors, and stakeholders care about TB,' saidLucica Ditiu, MD, executive director of the Stop TB Partnership, in a press release. 'Data from 2020 and 2021 will reveal soon how hundreds of thousands of additional people are dying from TB and how TB drug resistance and the TB epidemic itself are on the rise.' Although each year an estimated 10 million people fall ill with TB and 1.5 million die, incidence and deaths have been declining steadily over the past decade. But the pandemic and resulting lockdowns have hindered case detection and TB treatment services in many high-burden countries." READ MORE
9/26/21: COVID Raises Bar for Infectious Disease Crisis Response (Financial Times)
"'Smallpox was eradicated; deaths caused by measles, malaria and meningitis sharply reduced; and more recent emerging infections, such as HIV, were brought under better control. Even in lower-income countries, economic development and investment in healthcare systems have helped ease the relative impact of infections. But, paradoxically, such economic progress has helped create a "double burden" that includes various non-communicable conditions associated with longevity and "lifestyle", such as diabetes. Still, transmitted respiratory diseases have remained significant contributors to morbidity and mortality everywhere. Tuberculosis burdens poorer and more marginalized groups in richer, middle-income and developing countries." READ MORE
9/24/21: Kenyan Adolescents with HIV Facing 'Devastating' Effects of COVID-19 (Avert)
"More than 40% had experienced food insecurity, which means there were times when they did not have enough to eat. A further 4% did not have enough to eat most of the time. More than one third stopped all schoolwork during the pandemic. This was more common among adolescents who had left HIV care than those still enrolled (46% vs. 36%). Around 10% were working before COVID-19, but two-thirds had lost their job due to the pandemic. More than a third (36%) relied on someone else who had lost a job or income during the pandemic…. Around one in five (19%) said they were worried about staying healthy during the pandemic. One of the biggest fears among adolescents was that having HIV might mean they were more likely to get ill if they got COVID-19. The findings show the need to improve support for adolescents with HIV during times of crisis, particularly in relation to food and education." READ MORE
9/22/21: Covid Coughs Up New Problem: A Greater Vulnerability To TB? (The Times of India)
"Is low immunity and lung damage caused by COVID-19 predisposing some people to get tuberculosis? Many doctors are raising this concern as there has been a significant surge in diagnosis of the bacterial infection over the past few months. Dr. Jugal Kishore, head of community medicine department at Safdarjung Hospital, said detection of TB has nearly doubled. 'It's possible that many patients who had TB are coming to hospitals now and getting tested, hence the increase in detection. But we cannot rule out the role of steroid use for COVID-19 management. It reduces immunity and predisposes those with latent infection to get active TB.,' he added…. The increase in TB cases in the country was highlighted by public health experts in July too. The Union health ministry had then clarified that TB screening for all COVID-positive patients and COVID-19 screening for all diagnosed TB patients had been recommended." READ MORE
9/12/21: The Fight Against COVID-19 Should Not Cloud the Burden of African Endemic Diseases (Face2Face: Africa)
"The narrowed conversation driven by the impacts of the current pandemic is driving neglect of already neglected diseases across the world, especially in Africa. While malaria, tuberculosis (TB) and HIV/AIDS are still among the major causes of death in Africa, the existing refocusing of already limited resources on COVID-19 could lead to millions of excess deaths and disabilities through Malaria, HIV/AIDS, Tuberculosis and Neglected Tropical Diseases (NTDs) mortality and morbidity…. Africa's fight against the current pandemic must not be allowed to undermine the progress that has been achieved in control programs of African endemic diseases." READ MORE
9/9/21: Peter Sands: HIV, TB, and Malaria Needs Even Greater Post-Pandemic (DEVEX)
"When the coronavirus pandemic hit in early 2020, the Global Fund to Fight AIDS, Tuberculosis and Malaria launched a funding mechanism to help protect the gains made in the fight against the three diseases. But the damage from the pandemic was still significant…. 'I think the thing that most worries me right now is that some of the countries — and I will include most of Africa here — that were less hard hit in 2020 by COVID are now being pretty hard hit. And that will inevitably have a knock-on impact on the other diseases,' he added. All these mean the world is further off track in meeting the targets set out for the three diseases in the Sustainable Development Goals. To get back on track will require steeper reductions in deaths and infections, more money, innovations, and effective execution of interventions, Sands said." READ MORE
9/9/21: COVID-19 Added Over $290 billion to the Global Cost of TB Deaths: Study (Down To Earth)
"Disruptions caused by the novel coronavirus disease (COVID-19) pandemic added $290.3 billion to the global cost of tuberculosis (TB) deaths, found a new study. The economic loss due to these deaths was $17.5 trillion in 2020, with south Asia incurring the highest share ($7.1 trillion), according to the report published in the Lancet journal…. The analysis was done keeping in mind three scenarios: First, a steady 2 per cent annual decrease in deaths, referred to as the business-as-usual scenario, if the SDG is met by 2030 and by 2045, continuing in the same trajectory till 2050. In the business-as-usual scenario, if tuberculosis deaths continue to decline at 2 per cent annually until 2050, 31.8 million deaths can occur from 2020–2050, the researchers estimated." READ MORE
9/9/21: Not the Shot in the Arm the World Expected: The Pandemic's Collateral Victims (Politico)
"Even after the pandemic is over — and we're far from that — the ripple effects of Covid-19 will continue for years to come. Because of the virus' disruptions, fewer people across the globe got tested for tuberculosis, HIV and malaria over the past year, a new report by the Global Fund to Fight AIDS, Tuberculosis and Malaria shows….Fear and stigma hold patients back: Many health care facilities treating tuberculosis switched to providing care for Covid-19, and many people failed to get tested fearing they would catch the coronavirus, Erlina Burham, a pulmonologist who specializes in TB and heads the Covid-19 team at the Persahabatan National Lung Hospital in Jakarta, told Global Pulse." READ MORE
9/8/21: Global Fund Results Report Reveals COVID-19 Devastating Impact on HIV, TB and Malaria Programs (The Global Fund)
"The Results Report reveals the catastrophic impact the COVID-19 pandemic had on the fight against TB worldwide. In 2020, the number of people treated for drug-resistant TB in the countries where the Global Fund invests dropped by a staggering 19%, with those on treatment for extensively drug-resistant TB registering an even bigger drop of 37%. The number of HIV-positive TB patients on antiretroviral treatment as well as TB treatment dropped by 16%. The report also highlights significant declines in HIV testing and prevention services for key and vulnerable populations who were already disproportionately affected. Compared with 2019, people reached with HIV prevention programs and services declined by 11% while young people reached with prevention services declined by 12%…. Interventions to combat malaria appear to have been less badly affected by COVID-19 than the other two diseases. Thanks to adaptation measures and the diligence and innovation of community health workers, prevention activities remained stable or increased compared to 2019." READ MORE
9/2/21: Ramping up of COVID-19 vaccination will bring more focus to TB (The Economic Times)
"Screening, diagnosing and treating tuberculosis taking a backseat with COVID-19 and to meet the target of making India TB-free by 2025, which is ahead of global target, the Union Minister of Health and Family Welfare Mansukh Mandaviya urged all the states to ramp up COVID-19 vaccination, as it will help in bringing more focus to TB in addition to safeguarding the population from severe COVID-19." READ MORE
9/2/21: Untreated HIV, Low CD4 Count or Unsuppressed Viral Load Raise the Risk of COVID-19 Death in South Africa (NAM)
"People with HIV not on antiretroviral treatment were 45% more likely to die after admission to hospital with COVID-19 compared to people taking antiretroviral treatment, a large study of in-hospital deaths from COVID-19 in South Africa has concluded. The study also found an increased risk of death in people with HIV with CD4 counts below 200 and in people with HIV with viral loads above 1000 copies/ml, irrespective of antiretroviral treatment." READ MORE
9/1/21: WHO HIV PrEP Recommendations Associated with Global Increase in Use (Contagion)
"Adoption of World Health Organization (WHO) recommendations for HIV pre-exposure prophylaxis was associated with a global increase in PrEP use, but fell short of targets, a new study determined.… The COVID-19 pandemic has accelerated trends towards de-medicalized, simplified, and differentiated PrEP service delivery, which could further remove barriers to uptake and use of PrEP." READ MORE
8/13/21: Global Fund Grants U.S. $37 Million to FIND for Advancement of TB prevention and Control in India (The Global Fund)
"India accounts for more than one-quarter (26%) of the global TB burden and has the largest share of the global burden of drug-resistant TB. In this country, people newly diagnosed with TB rose from 1.2 million in 2013 to 2.2 million in 2019. But the impact of lockdowns, TB diagnostic services being reallocated to COVID-19, and pandemic-related disruption of procurement and transportation of medicines and laboratory consumables led to a drastic reduction in notifications between January and June 2020 despite the government's efforts to contain the pandemic and mitigate its impact on TB programs. It is estimated that the notification rate fell by 25% compared with the same period in 2019." READ MORE
---