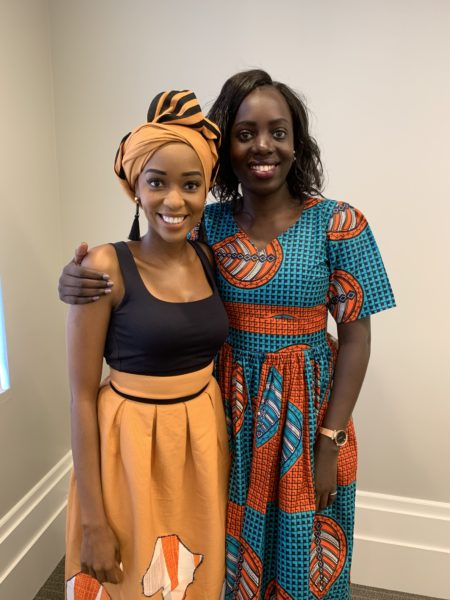 Globally, an estimated 36.9 million people are living with HIV, and millions more know friends and loved ones impacted by the disease.
Activists Martha Clara Nakato (Uganda) and Sibulele "Sibu" Sibaca (South Africa) are among those affected. As teenagers, both women came face-to-face with the disease: At 14, Martha discovered she was HIV-positive, having contracted HIV at birth, and by age 16, Sibu had lost both of her parents to AIDS-related causes.
Now, they're fighting back. As HIV Epidemic Response (HER) Ambassadors, Martha and Sibu work to empower and inspire the next generation of female activists in the fight against HIV. Earlier this month, they traveled to D.C. to use their voices and their stories to meet with members of Congress and advocate for life-saving HIV treatment and prevention programs.
Speaking to members of the D.C. global health advocacy community, Sibu said:
"I don't do this work because I chose it. It's the kind of work that chose me. Every six minutes, a young woman in South Africa is infected with HIV. Helping young women to have safer sex – empowering them to know what to say and how to advocate for themselves with sexual partners – is essential to ending this disease."
Every week, around 7,000 young women aged 15–24 become infected with HIV and in sub-Saharan Africa, young women are twice as likely to be living with HIV as their male counterparts. While organizations like the Global Fund, which supported 2.2 million women and girls to access critical HIV care and treatment in 2017 alone, have made tremendous progress against the disease, inequalities continue to threaten the health and lives of girls and women around the world.
"We are trying to build a global community where people at the grassroots level are meaningfully engaged in the policy decisions that affect their lives," said Martha. "Right now, only those at the top get to make these decisions…many of them do not want young people, especially young women, to speak because if they do, they will scream about these issues."
In addition to helping young women and girls engage in policy and better understand HIV prevention, Martha and Sibu are staunch advocates for female economic empowerment. Through her foundation, Sibu provides entrepreneurial skills training to a cohort of adolescent girls and young women who, like her, were orphaned by HIV/AIDS. Martha works as a DREAMS mentor, helping young HIV-positive women improve their self-esteem and their self-sufficiency.
"Giving young women skills for a healthy, independent lifestyle is key," Martha said, sporting a handmade dress she bought from a mentee who started a small business. "Too many women lack the confidence and esteem to negotiate for themselves and they don't have the tools they need to feel economically empowered."
There is strong evidence that delaying sexual initiation is crucial in reducing HIV/AIDS infection. Education plays an important role in delaying sex for young women. In a recent analysis of eight sub-Saharan countries, women with eight or more years of schooling were 47 to 87 percent less likely to have sex before the age of 18 than women with no schooling.
"We have to keep girls in school," Martha went on to say. "Books before babies!"
While in D.C., Martha and Sibu participated in 14 Hill meetings where they spoke about the life saving work of the Global Fund and the need for stepped-up funding for the fight against AIDS, tuberculosis and malaria.
---
Living Positively with HIV
By Martha Clara Nakato
Recently, I boarded a plane for a 7,000 mile trip from Uganda to Washington, DC. It was my first visit to the U.S. and the longest flight I've ever taken. But it wasn't my greatest journey. That began years ago, almost as far back as I can remember…
I don't remember being born, of course. That was in Kamwokya – the slum in Kampala, Uganda where I grew up. And I was too young to remember watching my mother weaken and eventually succumb to a debilitating disease when I was five. I also don't fully remember my father telling me she had "lung cancer," but for years I loathed the disease for taking her from me…
---
Multiplier for U.S. Policy: The Global Fund and HER (HIV Epidemic Response)
By Mark P. Lagon and Annika Holkeboer
Then incoming Executive Director of the Global Fund, Peter Sands, unveiled the HER – HIV Epidemic Response – initiative at the January 2018 World Economic Forum Annual Meeting, a fitting venue to introduce this new effort to mobilize private sector engagement to empower women and girls in the fight against HIV. HER is emblematic of how the Global Fund is a force multiplier for U.S. foreign policy priorities and global health investments.
In addition to other acutely vulnerable populations to HIV, adolescent girls and young women are rightly a focus of a concerted strategy to end the epidemic. In 2016, new infections among young women aged 15-24 years were 44 percent higher than they were among men in the same age group. This situation threatens to spur a resurgence of HIV in sub-Saharan Africa, where the population between the ages of 15-24 is projected to double in the next decade.
Click here to read more  or click here to download a PDF version.